We often hire out our machines to other catering businesses, so that they can add a string to their bow with the art of roasting a hog or a spitroast meat like chicken, beef or lamb. However, it may surprise you to know that we also sometimes even rent our equipment to other hog roast businesses, but then we are known for our first-class machines that we designed ourselves and that we build from scratch in our own factory.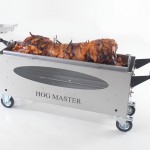 When a hog roast company recently contacted us to hire one of our machines, it was with a possible purchase in mind (as we do sell them, too!). The boss was interested in his staff trying out one of our range of professional hog roasters, for one of their catering events, as he had heard great things about them from other like-minded businesses who were happy with their purchases from us.
I delivered the machine to the boss at his hog roast company on Friday, and as he was accustomed to this type of cooking, it didn't take long at all to go through the instructions with him. While hog roast equipment can be fairly similar, our exclusive, stainless steel machines are a cut above the rest and we made them with simplicity in mind. It's as easy as turning it on and setting the temperature, although you do have to keep checking on the meat while it cooks.
For this particular event, our machine would be very handy, as it was on a farm with bumpy terrain, and with our pneumatic tyres and state-of-the-art steering system, transporting the pig would be a cinch. Roasting in the middle of nowhere is always possible, too, as our machines run on gas bottles, not mains electric.
When I collected the machine on Monday, the hog roast boss wasn't keen to let it go, as he'd loved using it. He commended us on producing an excellent product, which is always great to hear. Plus he's having a tour of our factory in the northwest UK this week and will compare our full range to see which machines will be right for his business.