---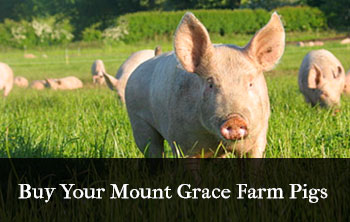 Hog roasting is the time honoured tradition of cooking either a whole pig or a large joint of meat in a slow and thorough manner which results in an end product that is moist and succulent, beautifully tender and exceptionally flavoursome. If you've never experienced the impressive sight and gorgeous aroma of freshly roasted pork before, after it has been meticulously cooked to perfection using the traditional spit roasting technique, then you should prepare yourself for a visually stunning and deliciously full flavoured feast which will undoubtedly change the way you think about beautifully cooked and professionally served great tasting hot food forever!
As one of the UK's leading suppliers of high quality meat and poultry, and as modern day experts that specialise in the hire and sale of the very latest in cutting edge hog roasting equipment, we are able to provide everything you could possibly need for an outdoor pig roasting event that will leave a wonderfully memorable and long lasting impression on you and your guests.
Regardless of whether you are hiring our services for a small wedding reception, a large scale outdoor corporate event, a prestigious food festival or any other occasion where good company and spectacular cuisine are to be enjoyed side by side, our highly motivated and incredibly enthusiastic team of hog roast caterers are always available to provide the best quality food at the most surprisingly affordable prices!
The Hog Roast Catering Specialists!

In addition to our wide and varied choice of highly satisfying pig roast menus which make excellent use of the finest locally farmed produce, having been home grown and reared by hand by a carefully selected choice of award winning British farmers who are renowned for their fine tasting breeds of livestock, we are also able to offer a stunning selection of equally great tasting alternative meats such as Spring Lamb, Roast Beef and Poultry which are cooked to the same exceptionally high standards as our hog roasts using the same state of the art combined oven and spit roasting equipment for spectacularly good results.
Unlike many of our competitors who are usually only able to offer their services within a limited number of local areas, Spitting Pig are able to provide hog roast catering at events throughout the whole of the UK with our ever expanding team of highly experienced pig roast catering experts who work with a reliable network of carefully chosen specialist meat and poultry suppliers who can provide everything you could possibly need for the hog roast food frenzy or lamb, beef or chicken spit roasted barbecue of a lifetime!
Hog Roasts And Catering For All Occasions
With over twenty years of experience and one of the biggest and best menu choices available anywhere, our dedicated catering team are able to provide great tasting food for any number of people ranging from a small and informal gathering of family and friends holding a private celebration through to a huge outdoor event with hundreds of visitors! Furthermore, in addition to our unrivalled selection of hot and tasty meat dishes which includes everything from Spit Roasted Pig served with Stuffing, Apple Sauce and Crackling, through to Barbecued Beef burgers, Peking Duck Wraps and Spicy Thai Chicken Kebabs, we are also able to offer a stunning choice of mouth watering vegetarian dishes which ensures that all of your guests are left feeling completely satisfied!
Our professional hog roast catering service is fully inclusive and includes everything from providing the plates and dinnerware, laying the tables and preparing the food in front of your guests through to clearing up afterwards so that you are free to take care of everything else with the minimum of stress or distraction. We are also able to offer a full training service for other hog roast catering firms seeking to learn from our vast level of expertise.
Hog Roast Machines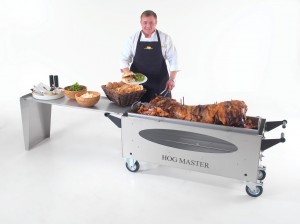 Are you a mobile event caterer or hospitality professional seeking to extend your repertoire and give your clients something a bit different when it comes to outdoor dining? Investing in your own hog roast machine will give you the scope to cater for a high volume of people without compromising on the quality of the food you provide for any type of outdoor event. We supply market-leading hog roast catering equipment with a range of different models available that vary in size and function, depending on your requirements. All of our equipment can be easily transported in a van and operated in any type of outdoor setting. As our hog roast machines don't require mains power, you can cater anywhere including the middle of the field for a festival, at a business premises for a company barbecue, in a marquee for a wedding reception, or anywhere else for that matter. This means you will always being able to deliver the same impressive standard of hot, freshly made food in any location and for any number of guests.
Whatever you are looking for in a hog roaster, we will have a machine that fits the bill. If you want a vast capacity, our mighty Platinum machine can cook two whole pigs in one go, whereas if you need a more compact machine for smaller parties, our scaled down Hogmaster Pro is perfect. If you want a classic spit roast machine to showcase the traditional art of hog roasting at its best, our most popular commercially available machine is the timeless Titan. All of our cutting-edge hog roast machines are constructed from stainless steel and designed by our own in-house team of hog roast experts at our UK workshop. As reliable as they are robust, our hog roasters will never let you down and will always help you to achieve fantastic results every time. If you are looking to transform your catering services and wow your diners, you won't find a more professionally made, versatile or user-friendly piece of kit than one of our hog roast machines.