At Hog Roast Northamptonshire, as well as catering for several events such as weddings, parties or a simple get together, we also hire out our hog roasting machines to customers who enjoy giving things a go themselves.
Late last year, during the cold October month, Michael and Jayne hired out one of Hog Roast Northamptonshire's large, professional roasting machines to cater for Michael's big 40th birthday. Michael and Jayne were not completely sure on how to use such a technical piece of equipment however they had previously been to a friend's wedding where the hog roasting perfectionists were serving and couldn't help but notice how well the food was cooked! As soon as they both tasted the tender meat and famous pork crackling, it was something that they both wanted to try themselves.
The day of the party was just a week before Halloween, 2 of our team arrived at their house in the morning and delivered not only the machine, but a large hog too! First, they demonstrated exactly how to set it up, despite the instruction manual, they then explained to how to use the machine. Michael and Jayne said that service was friendly and so helpful. They had already explained to us that they wanted to cater for 75 guests therefore we created an order that fitted the requirements perfectly.
Michael was concerned that by hosting their own food at the party would limit the time they had with the guests however this was not the case. The hog roast was set at 12 pm and by the time they had greeted and enjoyed the guests, the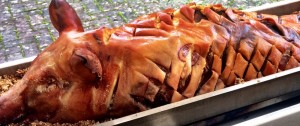 hog was roasted and ready to serve, everyone helped themselves and no fussing had to be done. Jayne particular, was was delighted by this – 'It gave the freedom to celebrate with my husband whilst cooking him a delicious meal all by myself. He was most impressed.'
Michael also quoted – 'I couldn't recommend Hog roast Northamptonshire more, they even came back to my property at the end of the event and tidied all the equipment away! Leaving me, my husband and guests to party through the night hassle free.'