Hog roast catering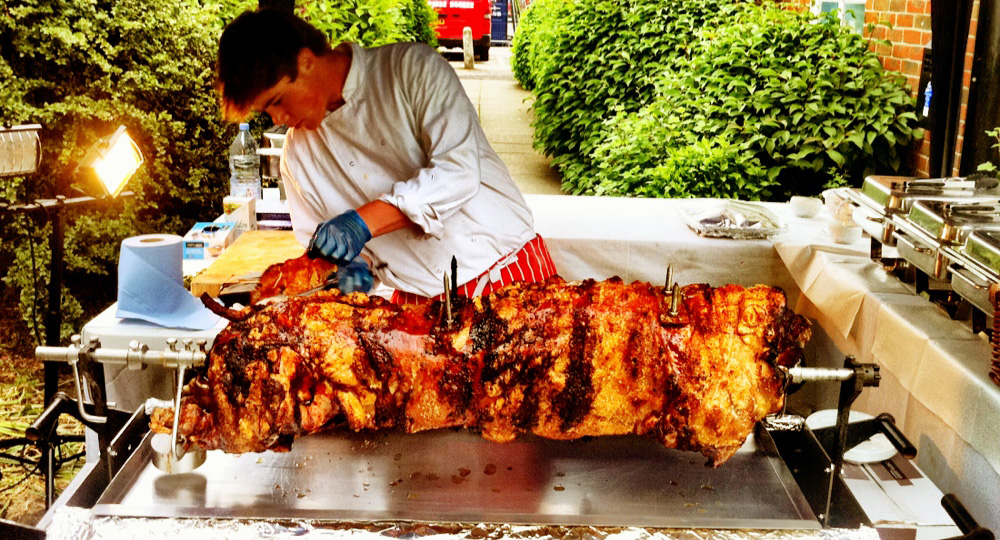 Here at Spitting Pig we lead the field in Spit and hog roast Catering.
Spitting Pig can turn any event into a special occasion… we'll prepare, roast and barbecue on site-indoors or out, any time, any season and with a range of set and bespoke menus to suit your budget.
With locally sourced traceable meat from the very best suppliers through to garden fresh salads lovingly prepared and presented you can be sure that your events food is in safe hands. We take great pride in our work and make sure every detail and aspect of the food service is thoroughly covered. We have been delivering hog roast catering at the highest levels for over twenty years and have a wealth of knowledge and experience to call on. There is nothing much that we have not experienced over the last twenty years and we are able to cope with whatever challenges any event may present.
Spitting pig… adding sizzle to any event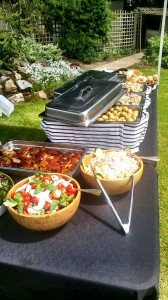 At the core of our business enterprise is our catering service. Pivotal to both our initial success in the market of catering, along with our continued and current success, the bespoke and intricately detailed catering service we provide has made us what we are today; the nations leader in hog roast and spit roast event catering.
Founded over twenty years ago, The Spitting Pig has relied on a few steadfast values that have driven us forward and put smiles on the face of our customers. The first rule is freshness. Using our passion within the concept of the spit-roast cooking method, allows us the option to freshly cook your pig on site. Everything arrives prior to the event in a raw and beautifully fresh state. Having partnerships with some of the country's leading suppliers, in both our expansive meat choices as well as our vegetable and salad options, the ingredients we use are as fresh as can be.
The second rule is quality. A broad and wide ranging notion, the insistence that quality plays within our event catering set-up is absolutely paramount. As we also design and manufacture our own range of market-thumping hog, spit and combination roasting machines, we can continually evolve our machines through our experiences at our many and widely varied catered events. Through this, not only do our hog and spit machine customers receive the ultimate in technological manufacture, but our catered event customers get to experience the optimum levels of catering available today.
Bespoke catering perfection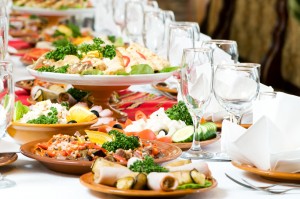 Being versatile is a necessity of any catering outfit. Without having the logistical capabilities coupled with almost super-human levels of inclination on behalf of the chefs, caterers dealing with both indoor and outdoor catered events go out of business exceptionally quickly. Being able to cater for any event is not a boast, nor is it a statement founded upon mysticism; The Spitting Pig can truly provide bespoke catering perfection irrespective of the size and location of your proposed event. Our comprehensive and highly extensive portfolio of 'events completed' display this accurately.
We have catered for the smallest of garden parties, huge weddings, corporate functions on a massive scale as well as providing catering for the celebrity world regularly. We approach everything with the same attitude, always insisting on excellence and never disappointing our customers. In an industry where reputation is key, this is as fundamental to us as the seasoning on our meats.
Drawing upon a tried and tested system, we utilize a command structure that places expertise and excellence as its corner-stone. Having depots placed strategically throughout the United Kingdom, we can co-ordinate our efforts much easier, allowing our customers to receive the benefit of a locally aware team that abide by our strict and unwavering stance as regards quality. Through the usage of local teams, transport costs to the customer are much less and ingredients come as fresh as is humanly possible.
A lively and vibrant team
Our in house hog roast event catering team will take the pressure and strain away from our customers, by ensuring all the stressful details are taken care of, so you don't have to worry. A lively and vibrant team, they capitalise on years of experience backed up by having completed hundreds of catering jobs successfully, from the glens of Scotland, the rolling downs of Kent and inner city functions in London. Concentrating on all aspects of the catering and dining experience, the events co-ordination team take your wants, desires and needs and formulate them into a slick and immaculate culinary program. Combining your various side dishes with the freshly prepared meats of your choice, the organisation on behalf of our customers couldn't be any easier. So just sit back, relax and let us do the hard work.
Making memories has placed us in a position of responsibility. As claiming excellence would be foolish if it wasn't backed up by any fact. This is where we feel we differ from any other catering service available today. With crucial and critical experience in the field of hog roasting, we believe that our service package constitutes the most comprehensive available. From start to finish, including our discreet departure and meticulous clean-up process, we aim to make our customers remember us for all the right reasons. And that's where the real responsibility lies. As being the maker of memories on behalf of our customers is, indeed, a challenge. But where others have tried, and failed, we rise to every challenge with relish.
Quality from the start
We know that the best food can only start with the best ingredients so all our spit roast and barbecue meats are fresh and locally sourced from trusted suppliers before being cooked to perfection.
At your service
Nothing adds to the pleasure of good food more than good services. Spitting Pig's trained chefs and waiters/waitresses ensure that the food is prepared and presented to your guests' satisfaction.
For your further reassurance, all Spitting Pig Staff hold the Food and hygiene Certificate from the Charted Institute of Environmental Health
Share the passion
At Spitting Pig, we have a Passion for food.. and we love to share it.
We are a hands-on, proprietor-run Company. So can offer flexibility as well as personal commitment.
Why not give us a call and see how we can bring that passion to your special occasion?
Hog roasting equipment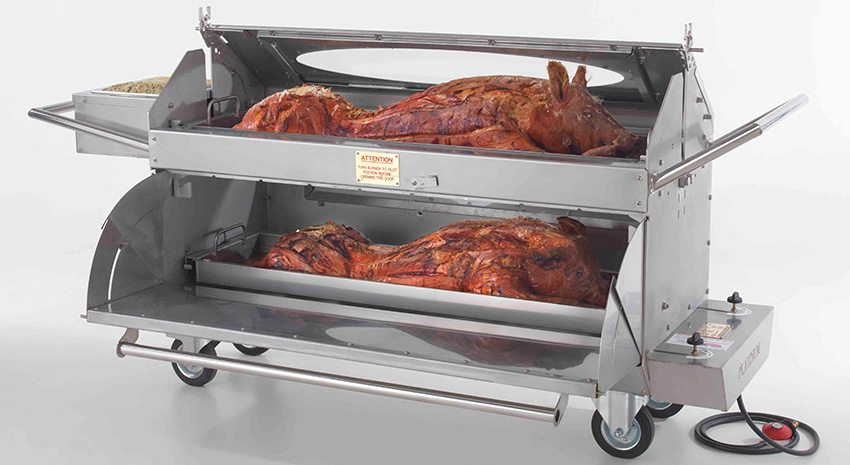 Spitting Pig is the largest provider of spit roasting equipment in the UK.
Founded in 1986, Spitting Pig quickly become the UK's number one Provider of spit and hog roast catering.
Stephen Marsden,MD, has built the reputation of Spitting Pig on consistent reliable service and over the 20 years has perfected the best catering equipment and methods. Spitting Pig is now offering this to people wanting to profit from their own successful business. Our equipment is built in-house to the highest standard using the finest materials and latest manufacturing techniques, enabling us to guarantee you a first rate product and a responsive maintenance service.
The spitting pig hog roast equipment manufacturing journey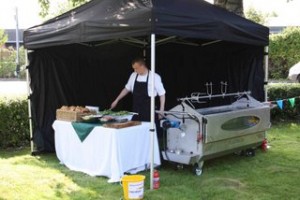 "On my journey, I have learned a great deal about the importance of service. A good event leads to a recommendation but a great event leads to many more. Attention to detail is critical: Consider the difference between how turning up professionally in named chef whites looks, rather than appearing in a dirty shirt and shorts. I believe the package is not only about the equipment, but also about providing a helping hand to our partners, sharing the wealth of knowledge gained through my long standing experience in the catering industry."
The Spitting Pigs illustrious machine manufacturing journey began over twenty years ago. With Stephen and Adam at the helm, the boys initially began by modifying existing machines. These hog roast machines were built around the basic spit roasting concept and were effective in their desired arena, that of outdoor and indoor mobile hog roast and spit roast catering. However, due to Steve and Adam's extensive experience of re-fitting obsolete trucks and thus making them roadworthy, the men set to work improving, modifying and re-modelling the machines.
Equipped with saws and power-tools, it wasn't long before the machines had effectively become different entities from the objects which they started life as. Approaching each and every problem with a positive attitude, the many design failings found within the original machines were ironed out. This resulted in the Spitting Pig Company becoming very popular, very quickly indeed.
The growth of spitting pig company
Back then, the founders of the Spitting Pig Company lived a life of freedom and fun, not often seen today with many of us working long hours for most days of the week. At the start, Adam and Steve would do catering jobs at functions and parties and earn enough money to go surfing in Cornwall or Devon. Using their own adapted machines at the events which they catered for, not only were people fast becoming hooked on the taste of beautifully cooked, slow roasted meat, but also highly intrigued by the lightweight, powerful and hugely capable machines that the guys were using. Through this scenario of catering and self advertisement of the machines, the interest in the mobile roasting units quickly manifested itself as orders coming in on behalf of customers wishing to become owners of the machines themselves. Utilising the skills of local engineers for a time, the men started to sell more and more machines.
Through this, investment was put back in to the development of the machines themselves. This scenario continues today just as it did 20 years ago. Soon after the first major orders had been serviced, it became apparent that manufacture was best done by us instead of contracting out to others. This way we could control every aspect of the process, from design to manufacture. Believing wholeheartedly in sound engineering, along with having a huge respect for Britain's history as a leader of design and engineering innovation, our own manufacturing facility allowed us to implement immediate changes in the design of our machines as different catering scenarios presented themselves out in the world of catering at functions.
Leaders in our field
This symbiotic process of design and manufacture has made us what we are today. Undoubtedly the leaders in our field, it is no arrogant boast that we lead the field by an extensive margin. It is the opinion of our clients and it is through the dedication, passion and perfection that we continually strive for.
Now a large team, we still remember our company's relatively humble beginnings. However, it is now as it was then; that when you combine energy and enthusiasm in the design and manufacturing process, coupled with an insistence to get every detail right, there is little that can prevent the success of both yourself and your customers.