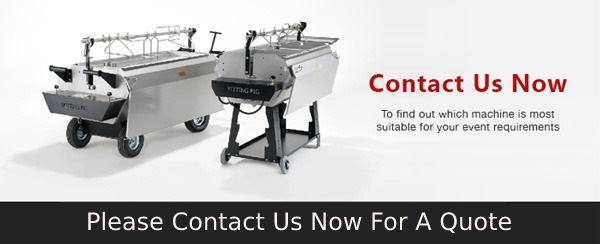 Of course, The Spitting Pig Company manufactures its own range of hog and spit roasting machines. In fact, it has done so for over two decades. We believe in optimum quality and don't even entertain the idea of settling for second best. Its what amazes our new customers and keeps our existing ones coming back. In a commercial sense, our machines are a fantastic investment, often being able to pay for themselves within a month or two.
However, we also acknowledge that not everyone who wishes to experience the fun and splendour of conducting their own hog roast wishes to buy a machine outright. Thus, through our accelerated manufacturing we are able to offer our machines as a hire option. Our manufacturing streamlining has allowed us to keep many machines in stock, so through this evolution of practices, our customers now have an even cheaper way of enjoying a hog roast!
Pig roast machines hire or buy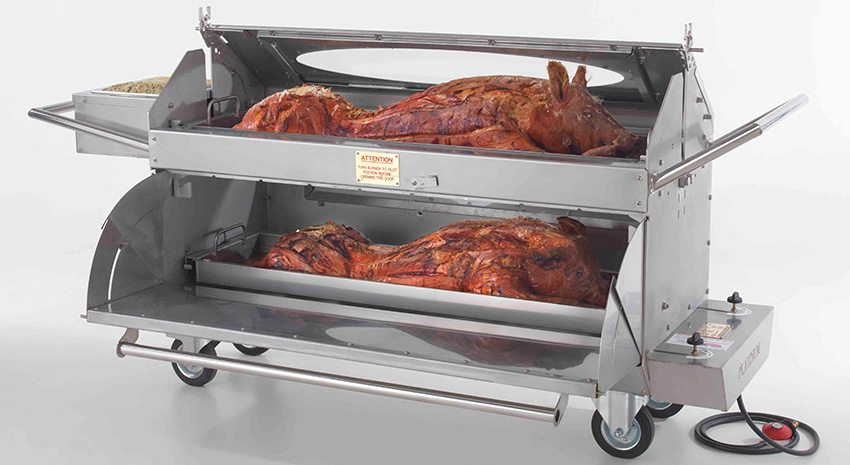 Alongside the hire service, The Spitting Pig Company also offers our customers the chance to purchase their required meat from us. Taking advantage of our extensive trade experience, we source the finest pigs, lambs, beef and chickens. Therefore, our customers really can relax and let us do the hard work, leaving you to ultimately take care of the more interesting task of roasting the hog on one of our sensational and easy to use hog, spit or 'combi' roasters. Having both our smaller 'Professional' range of hog roasters available for hire along with our larger commercially viable units, there really is no excuse to not get stuck into some real food, whatever your budget!
Have you ever considered doing something just that little bit out of the ordinary and possibly a little out of character? You know, like suddenly booking a holiday online or deciding that you want to do a charity sky dive? It can be fun if you sometimes do something a little different because, let's face it, life is for living!
Fantastic range of hog roast machines
Here at Spitting Pig, we love to see people living their lives to the full. It is something that we have become used to over the last couple of decades because we have seen how people have transformed their lives with our fantastic range of hog roast machines. We have seen people make a big decision to change their careers completely and launch themselves into a new life as a hog roast caterer, and it is always fantastic to see how much these people enjoy this new adventure in their life. Sometimes you just have to grab the bull by the horns and do something to bring about great changes. Spitting Pig is helping people do just that.
There really is something special about hog roasting, in fact I am not entirely sure what it is. I suspect it is something to do with going back to basics and the simple ways of cooking meat, or maybe it's a visual thing where we feel drawn to see meat being cooked in such an exciting and appealing manner? Who knows for sure, and who cares? All we know is that hog roasting is becoming a big hit with people all over the country. So much so that hog roast machines are becoming a big attraction for both domestic clients, too.
I suspect that this is all down to the growing number of events in the UK that are turning to hog roast as their catering option of choice. There really is a new wave when it comes to catering and it is one that is saying a very loud 'goodbye and good riddance' to the old school of catering. By old school, I think you know what I mean; plates of dried up sandwiches, boring quiche, cold meats arranged in silly patterns, sausage rolls with ninety percent roll and ten percent of something vaguely sausage like and a whole assortment of other less than exciting options. If you thought glam rock and sideburns were the worst thing to emerge from the seventies then think again. Bad catering is up there, too. It really is no surprise to see that hog roast has been welcomed with open arms by everyone who is completely fed up – or should that be unfed – by those dreary catering options of yesteryear. Hog roast machines and their accompanying chefs have brought great food back to the events, parties and functions of Britain and it is a very welcome return.
A triumphant catering renaissance
At the heart of this triumphant catering renaissance is a very fine bit of British engineering and design. Yes, it may sound like I am discussing a new sports car but I am in fact referring to the hog roast machine. If you have ever been to a hog roast event and had a good long look at the hog roast machine being used by the chef, you will see what a sturdy and well made piece of kit it really is. It needs to be because it has a tough job on its hands. Supporting the weight of a huge whole pig night after night requires some solid engineering, but at the same time, you need a superb quality cooking appliance that is prepared for reliable and repeated use. It's a tough ask but Spitting Pig hog roast machines certainly deliver on all fronts.
These are tough machines that can cope with the day to day transporting and wheeling to and fro that is part and parcel of a hog roast machines life. These machines can not only cook a mean pig but can take a bit of punishment, too, so being wheeled over gravel car parks and being bumped into doorframes and through narrow garden gates simply won't phase them one bit!
hog roast machine hire
It is no surprise to see many of the people who have enjoyed hog roast from these machines enquiring about getting their own machine, in fact we think it is fantastic that they have enjoyed hog roast so much that they want to try cooking it for themselves. So that is why we have made hog roast machine hire an exciting and affordable option for anyone wanting to give it a go. For anyone who has ever fancied the idea of being a pig roaster, hog roast machine hire from Spitting Pig is the perfect way to realise that dream.
Hog roast machine hire really could not be simpler. We can arrange for a machine to be delivered direct to your home complete with gas bottle and everything else you need to get roasting away. In fact, if you really want, we can even arrange for the pig itself to be delivered. This really is the ultimate in hog roast takeaway! And when you are finished with the hog roast machine, we will even come and collect it from you. How's that for service!
So, what will be the special occasion that you are going to hog roast for? Could it be a special anniversary perhaps or maybe a landmark birthday party? How about a family get together or work based party to help motivate the workers? Whatever your reasons for hiring a hog roast machine, the Spitting Pig team are sure that you are going to enjoy every moment that you use the machine. So much so in fact that we think that you will want to buy your own, and if you are so keen to do so, we have some great deals available on our hire machines so that you can turn your hire machine into your own machine. Ask the Spitting Pig team for all the details and you can keep on roasting!