Peter is the owner of a local farm who has a field which is available to hire out for wedding receptions and various local music and food festivals throughout the year. He wanted to extend his package by including catering facilities and thought his best option for outdoor cooking was a hog roasting machine. He had no idea which machine to buy though and was left feeling quite bewildering by the confusing information he had read on various websites. This changed when he contacted a member of our team though, who he found incredibly approachable and well-informed. They took the time to explain to Peter in a clear, jargon-free way what would be the best option for him, taking all of his requirements into account. Peter was very pleased with the advice he received and before too long, he was in  possession of the ideal hog roasting machine for his needs: our mighty Titan!
From the feedback Peter received from everyone who has used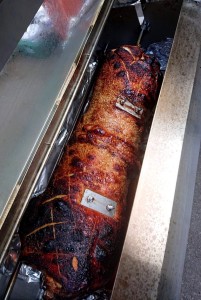 it so far, the Titan is everything we said it was and more! Having been trialled at 2 wedding receptions and a folk music festival, the appointed chefs found it incredibly user friendly and the perfect way of feeding a lot of people on a budget without compromising on quality. The addition of the heatproof glass panel in the front has also been popular with the diners, as everyone can gather round to watch the meat cooking, which creates a much more sociable environment.  When moving the Titan to the field, Peter also found is very easy to transport because of its robust wheels that are capable of handling any terrain, muddy fields included!
Peter told us since he bought the Titan and started advertising it as part of the package, he has had a lot more interest from people wanting to hire his field for events, as the thought of being able to enjoy some beautifully meat cooked with the minimum of effort in the fresh air as part of the deal, is an offer that is too good to miss out on! Peter is a huge fan of the his new hog roast machine and has highly recommended it to all of his farming friends!