When people get married everyone assumes they will live a long happy life together however unfortunately these days it's rare that people stay together without getting a divorce or separated along the way. That's why it was such a special occasion last Tuesday when Helen and Andrew celebrated their 25th wedding anniversary!
For this special occasion their daughters had planned a surprise party for their parents and their closest friends and family and were desperately trying to keep the secret from their parents. Hog Roast Scarborough had been called in to do the catering and the girls knew their foodie parents loved traditional foods and decided that a slow roasted meal from Hog Roast Scarborough would be a perfect addition to their celebrations.
As this was such a milestone event we were under pressure to have everything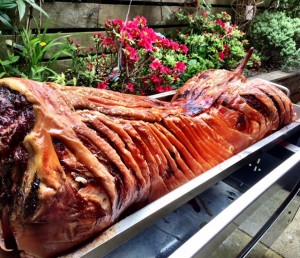 absolutely perfect and on schedule – luckily, we do this type of thing every day, so we knew what to do to make sure everything ran smoothly and that the girls had nothing to worry about in terms of the catering. We prepared our signature 'Southern Slow Roast' menu which encompasses three different meats of the client's choice. The girls agreed their parents and guests would most enjoy our Texan Beef Brisket, BBQ Pork Butt and our irresistible Louisiana Sticky Pork Ribs that simply melt in the mouth. Each of these meats is roasted 'low and slow' to provide that mouth-watering texture and sensational taste. To accompany this there were sides our homemade coleslaw, fresh salads and corn on the cob.
When the moment came, and Helen and Andrew arrived they were astounded. They couldn't believe what the girls had done for them in organising the party and welled up when they realised how much effort and planning had gone into the party right under their noses. When the time came to taste the food, they were even more gobsmacked to our delight. Everyone agreed the meats were cooked to perfection and packed full of flavour.
It's safe to say the silver couple had a wonderful evening and they thanked us at Hog Roast Scarborough for providing such a perfect meal. Before heading off we discretely packed away and cleaned up, leaving the guests to enjoy the party…