Our latest happy customer to venture into the world of hog roasting is Dave, the manager of a rugby club who was in desperate need of some decent cooking equipment to cater for the range of events and functions the club hosts, from wedding receptions to karaoke nights. Whilst everyone always has a great time, Dave knew he needed to up his game in the food department, but his chef skills weren't exactly Michelin star standard! But as Dave discovered, if you have one of our Platinum hog roast machines by your side, they don't have to be!
Hog roasting is an impressive yet low maintenance method of cooking any joint of meat (not just pork) and feeding a lot of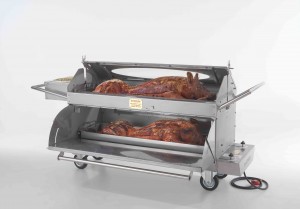 people, even if, like Dave, you aren't the most experienced cook in the world. After Dave explained his requirements to us, our knowledgeable hog roast machine specialists advised him that his best option was our popular Platinum machine, as it can be set up in several different ways depending on what type if meal you are preparing. Dave was very impressed that it could cook 2 pigs at the same time, if he had a large event on, as well as having a spit roast attachment for a carvery style service and the capacity to be used as a tradition barbeque as well, whilst the pig is cooking! And if all that isn't enough, it can also cook a large amount of potatoes and vegetables at the same time too!
Dave loves his multi-functional Platinum and he told us it has completely revolutionised the way in which the rugby club host functions now, to the point where word has spread, and Dave is now getting inundated with requests to hire his venue and try his food! It has also apparently done wonders for his reputation as a chef, as all his diners are very impressed with the quality of the meat he can now provide. Dave is keeping quiet about the Platinum's prowess and is happy to let his patrons think the perfect pork it produces is all down to his handiwork, rather than the quality of the machine!
Thanks for the fab feedback Dave, we're so glad our Platinum is having such a positive impact on your business and your culinary credentials!