The Hog Master looks smart, is easy to use and manoeuvre. Whether it is being used by an expert chef or a complete beginner, it produces a delicately roasted pig with the most mouth-watering tender pork and crisp crackling. It's flat lid means that you can use it to channel most equipment to the area of the event by stacking things on top. An alternative version of this machine is the Hog Master Glass, it's the same machine but with a heat proof glass window at the front to benefit any spectators wanting to have a look.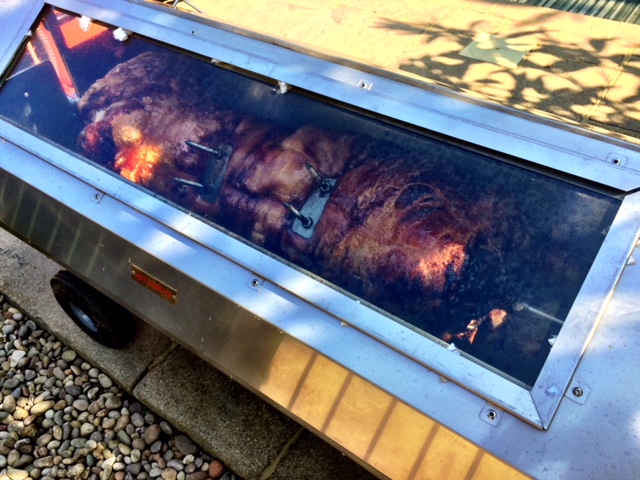 The Titan machine is a top of the range machine, probably being the most versatile out of them all and the best for spit-roasting. Having two burners each side of the machine allows for a more equal cook, producing tender carving meat and the best crunchy crackling. It has a heat proof glass panel on the lid to provide an entertaining aspect for the customer and their guests. 
Finally the ultimate hog roast machine: The Platinum. It is a one-of-a-kind sophisticated oven that is completely versatile with no limitations! A handy part of this hog roast machine is its two gastronomes attached to the side, this makes serving hot accompaniments such as gravy easy to do. Certainly, the most impressive feature of this machine is its ability to cook two pigs at the same time! It welcomes large events such as festivals, taking the ability to provide for large numbers in its stride! 
All of these machines work marvellously as a combination oven, hog roasting oven and spit-roasting oven. Each one being hand crafted from durable, strong stainless steel by hog roasting experts. Many come with different attachments to turn the machines into a culinary mastermind such as a chicken rotisserie, a BBQ tray and a spit kit. The machines have easy steering systems to make it more approachable to get into vehicles or in place for an event. 
Hog Roast Prestwick would recommend the Hog Master for anyone starting out, effortless to use, easy to clean and its flat lid benefits storage, whether that's at the unit or in transit. For spit-roasting pigs Hog Roast Prestwick recommends the Titan, it really provides a theatre element for the guests and is easy to fit with all the fixings.