Event caterer Louis Marshall booked an appointment with us recently, as he wanted to have a look around our factory. At The Spitting Pig, we always welcome both professional and domestic clients in doing so, as we're proud to show off our fantastic range of products that we manufacture ourselves. You can learn more about what we do and watch a typical hog or spit roasting machine being created right here in our UK factory – the quality stainless steel being bent and welded to start to form an excellent piece of machinery that will benefit you or your company again and again.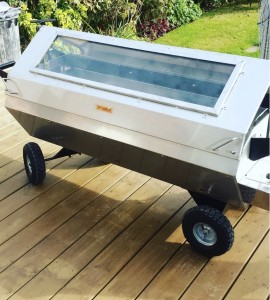 Recommended to us by a family member who had enjoyed a birthday party that we'd catered, Louis was thinking about buying one of our bigger commercial machines. The Titan is our top-selling product and can comfortably cook a pig up to 85 kilos in weight. We always explain, however, that you can use any of our machines for cooking other joints of meat – a hog roaster isn't just for hogs. We showed Louis the Titan as well as our Hogmaster range and the ultimate in roasting – the Platinum. With the latter, you can, if you want, roast two pigs, four pork legs and 200 jacket potatoes. That's all at the same time! Alternatively, you can use the Platinum to barbecue or spit roast, and you can cook your vegetables and potatoes simultaneously in the lower area.
Purchasing a hog roast machine is an investment, so we know it often isn't an easy decision to make, especially if you have never used one before, This is why it can be a great idea to hire a machine from us first. Louis admitted that not only had he never used a hog machine before, but he also hadn't ever enjoyed a hog roast or spit roast from such a machine before either. He had looked into it and thought it would be a great way to expand his business. However, we recommended that he hire one of our bigger machines for the day before deciding to buy one.
A few days after collecting the Platinum that Louis had hired, he returned to our showroom to buy one and was intent on returning in the near future to buy another model, too.