The Platinum machine is the ultimate hog roast machine on the market and especially loved by the team at Hog Roast Bootle. It is an amazing sophisticated oven with no limitations and completely versatile! 
It can be used simply as a hog roast machine, but with its gastronomes attached to the side means that you can serve hot accompaniments such as stuffing, sauces or gravy.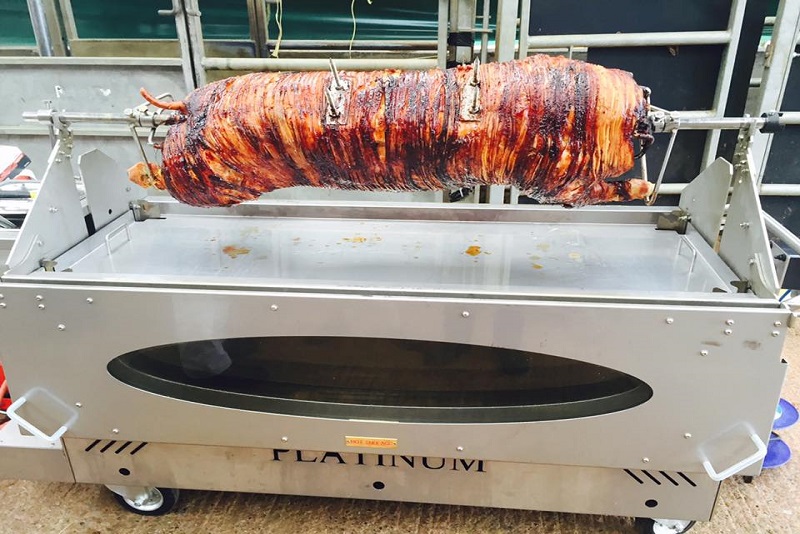 The most impressive feature of the Platinum is its ability to cook two pigs at the same time! This comes in handy for any big events such as festivals, weddings, racing. You can feed hundreds of guests at once! Recently a private school in Cambridgeshire purchased a platinum from Hog Roast Bootle so that they could provide food to hundreds of people during events such as school fairs, fundraisers or sport functions. Of course, it doesn't have to be two pigs it can cook, you can substitute these to lambs, four big joints of meat such as beef or even 200 jacket potatoes. 
A BBQ plate that easily slots on the top of the machine can turn the platinum into a traditional BBQ. The additional benefit of this BBQ tray is that you can still be cooking a pig underneath! Or the beneath area can be used to store extra BBQ food for service. 
The Platinum also has a chicken spit/rotisserie attachment which can be easily used to cook chickens or even joints of meat for a carver type service. Again, the underneath of this attachment can be used as a commercial oven so that you can be cooking accompanying dishes such as potatoes at the same time. 
The final versatile function of the Platinum is that it makes a fantastic spit roast machine. Whatever your requirements, the Platinum will provide! It has a heat proof glass window at the front of the machine giving the guests a visual aspect when the food is cooking. 
It is such a wonderfully accomplished and widely functional machine, the opportunity to add this to your collection of equipment should not be missed! Especially with a year's guarantee and a year's gas certificate so contact Hog Roast Bootle today to hear more.