I contacted Hog Roast Birmingham early last year as I wanted to surprise my wife for Valentine's day. I had never been the romantic type but after several years of marriage, I decided to give in and throw a little party for my better half.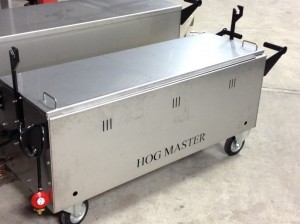 I called Hog Roast Walsall on the 9th of January and by the 10th of February, the team were round at my house ensuring I knew how to use the professional machine that I was hiring from them. Firstly, they explained that I could leave the machine roasting for hours and the meat would only get better, no burning or mess and secondly, I was shown how to set it up properly on the special day. The team were so helpful and charged nothing for their instructions and advice.
By the time the party day arrived, I was already a professional thanks to Hog Roast Walsall. I felt confident with the machine and began roasting my chosen whole chickens ready to feed my wife and guests. I also set up a buffet table layered with radish and tomato salads, my own onion gravy and some fresh buttered bread rolls. After some time preparing, I invited my wife and guests to join me in the conservatory. Gasps of amazement filled the room as my wife teared up just looking at the effort I had made. Soon we all dug into the feast that I had provided with the help of Hog Roast Walsall. I was delighted with how tender my chicken was, of course this was because of the quality machine. All of our plates were piled high with juicy meat, veg and bread rolls. We even kept left overs for the next few days.
With the help of the team at Hog Roast Walsall, I was able to create a perfect and tasty party for my wonderful wife and family. The crew even arrived after my party and cleared away the machine, leaving my guests and I stress free.