You may well be surprised to hear this but Hog Roast Falmouth is much more than a renowned catering business. As well as hiring out hog roast machines to both professional and domestic customers, we also sell them, and this includes our own range that we designed ourselves and which we hand-build in our Lancashire factory, and we also other sell other brands too. Our own range includes several different machines that are suitable for different needs, so whether you're cooking a small animal at home for a private party or you're thinking of cooking two beasts for a huge event with many guests, we have something for everyone.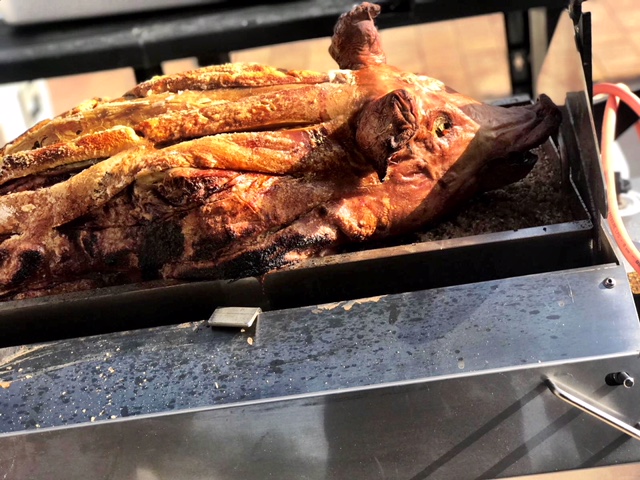 Professional chefs may want to buy their own hog roast machine (or more than one, of course) so that they can roast hogs or spit-roast meat for their own customers, while domestic cooks may be rental customers of ours who have seen how easy our equipment is to use and that you can save money when using it instead of your kitchen oven. Either way, Hog Roast Falmouth can help you to decide which hog roasting machine is suitable for your wants and needs and we can help you in person if you come along to our factory for a tour. You don't need an appointment to visit us and while you're there, you can talk to our specialists, see a machine or two being built from scratch and then have a look around our showroom, which features both new and used machines for sale.
Robbie has been a long-term customer of Hog Roast Falmouth for a long time and we have catered multiple of his own personal and business events over the years. In recent months, he became interested in trying out the art of hog and spit roasting for himself, so he hired our equipment to do so several times and became hooked on this way of cooking. Robbie recently visited our factory and showroom because he realised that owning his own machine would be a great idea, as he could cook for both his personal and business functions and save money while doing so. At the end of his tour, he left with one of our popular Titan machines and a big smile on his face and we're sure that he will be more than pleased with his purchase.