When it comes to hog roast machines, Spitting Pig has years of experience in rentals and sales of our own high-quality, great-looking range. They're the same as the machines that we use when catering parties and events all over the UK, and they vary in size and capabilities, and they're all available to be hired or bought from our showroom or online – and we even deliver worldwide.
Whether you're in the catering business yourself or you're a domestic chef who's looking to try this amazing style of cooking, we have several machines in our own range, including the Hogmaster, the Hogmaster Pro, the Titan, and the Platinum. You may need a smaller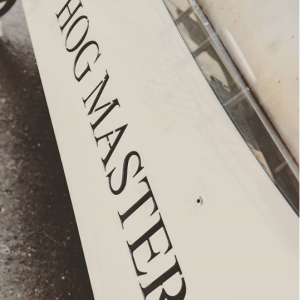 machine to cook a family dinner in your back garden or a much bigger, commercial machine capable of cooking multiple products for dozens of guests; either way, we can show you in person or tell you on the phone or online the best machine for what you'll be using it for.
When Dennis called us at Spitting Pig recently, he arranged to come and speak to us at our factory in the northwest of England, as he wanted to compare the different machines. Being a wedding caterer already, Dennis has noticed how popular hog and spit roasts are all over the UK these days and thought he'd try it out for himself. As we have been involved in this kind of catering for many years now, we're professionals who can help you with many aspects of the business, and as well as talking to Dennis in person about our equipment, we could also impart some of our knowledge on so much more.
Dennis clearly had a great time chatting with several of us at the factory and showroom, as well as watching a machine being built from scratch. He was so impressed that he wasted no time and put in an order for his very own machine the same day.
Our team at Spitting Pig can help you to realise your dreams too, so feel free to drop by or make an appointment to see us in person and we can show you around our factory and showroom. Maybe you'll catch the bug too!