If you're thinking of buying your own hog roast machine, you've certainly come to the right place. Hog Roast Thirsk has many years of experience of helping customers cook beautiful food with their purchases of either new or used equipment, either our own brand or those of others, whether that's professional caterers just like we are or domestic cooks who enjoy cooking this way at home with their own machine.
We have several roasters in our own range and depending on your wants and needs, Hog Roast Thirsk can help you to decide which is best for you, though if another brand can fulfill them better, we'll always recommend that instead, as we want you to get the best out of the one that's right for you.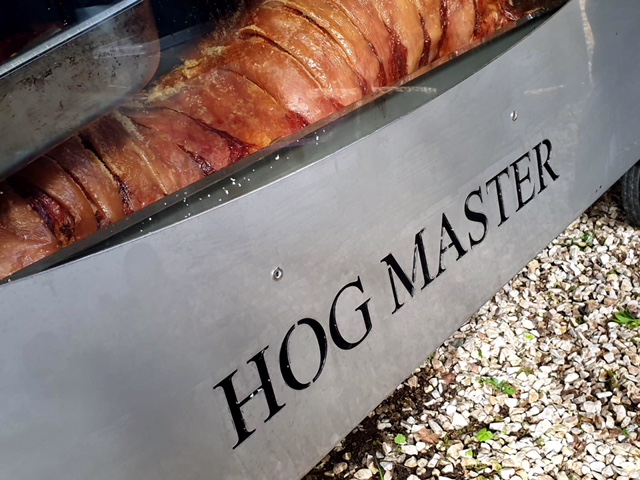 When catering for customers old and new, we use our own lightweight, stainless steel machines of course, which we designed ourselves, and they are hand-built to extremely high standards in our Lancashire factory. We made them to be easily manoeuvred and since they run on gas, you can take yours anywhere you like, as you don't need mains electric to cook with them. The fact that they work just like conventional ovens means that you can cook just about anything you like with one, so you could be roasting your choice of meat above, while cooking vegetables and potatoes inside, or you could even cook a pizza or two inside or use spit-roast or barbecue attachments instead.
As you can see, our own machines are incredibly versatile and whether you buy a new or used model, you'll be buying a fantastic machine with multiple capabilities. It's useful to know that when buying used equipment from us, one of our machines comes complete with a 12-month warranty, a 12-month gas check certificate and will be serviced, so you'll have peace of mind whatever your budget.
Hog Roast Thirsk can help you to cook all kinds of delicious food when you purchase a hog roast machine from us, so call us today to see exactly how. You won't be disappointed and you'll wish you'd thought of it sooner!