At Hog Roast Polegate, we cater to such a wide variety of events. We cater to both private and corporate events, including everything from family birthday parties to formal corporate dinners. To put it simply- whatever event you are planning on hosting, we have a catering package that will suit you. To offer some inspiration, we have created a list of the most common corporate events we cater for!
Formal corporate dining
This catering package is great for formal events. This is our Hog Roast Polegate waiting team's time to shine, serving canapes as your guests arrive and serving 2 or 3 further courses tableside. You have a vast amount of dishes to choose from, with the option of upgrading to include champagne and fresh tea and coffee if required.
Corporate Christmas parties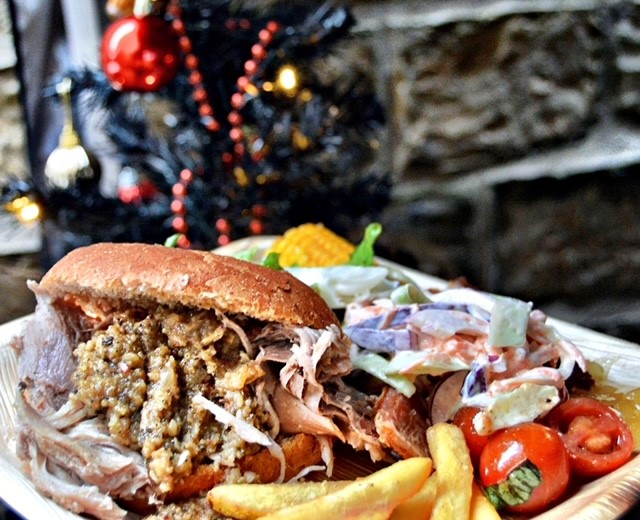 Everyone looks forward to their work Christmas party, no matter what job role you may be in! Christmas parties are a way to unwind with your colleagues and enjoy some food party games, drinks and delicious food. Depending on your budget and formality, we have several options for you to consider for this event.
Team training/recruitment days 
When you host team training or recruitment days, it is a good idea to include some mouth-watering food to incentivise your staff. We can provide buffet-style catering for these kinds of events, which can be served indoors or outdoors. With all of our food, we cook and prepare everything on-site, so you can ensure your meal will be fresh and of high quality.
Seminars/conferences 
For seminars or conferences, it can be important to feed a large number of guests in a short period. We recommend our meat-filled bread rolls and wraps, which are served buffet-style with a selection of sides and salad options. This is a great option for large events and is much more nutritious than fast-food or pre-packaged lunches.
Is your event not on this list? Don't worry- this list is not exhaustive. We can cater to any event you are organising. To discuss your event further and begin choosing your catering package, get in touch with Hog Roast Polegate today. All we need to get started is your party size, date and location.