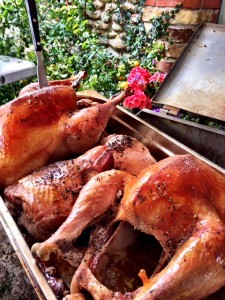 Hog Roast Scunthorpe often caters weddings in all kinds of locations, though not often in back gardens, but just recently we did just that. For Jo and Nigel's wedding, we cooked up a storm for 50 guests in the lovely lawned garden of a charming stone cottage in Whitton. This picturesque rural village is a few miles from Scunthorpe and features in the Domesday Book and it wouldn't be too far at all for our team to travel to Whitton.
We were asked to cook our Hog Roast Scunthorpe Menu 4, of our signature slow-roasted pig complete with crackling, stuffing and apple sauce, but with some additional dishes too. We often provide extras for our customers, whether it's more mains or the addition of sides, starters or desserts, and we also have plenty of alternative options for guests on special diets. For Jo and Nigel's wedding meal, we would be cooking two whole turkeys and additional sausages as well as the hog, cooking a whole tray full of new potatoes and freshly preparing some extras such as our crispy and colourful Thai salad. We were also asked for gluten-free bread rolls to be provided. This is never a problem, as long as we have advance notice, as we really do want all of our customers and their guests to be able to enjoy our food. By providing gluten-free bread rolls, those guests with an intolerance or allergy can still enjoy our delicious pigs in buns, for example, as the other ingredients are already suitable.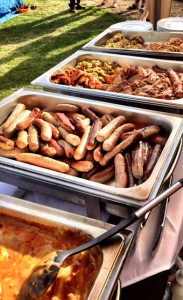 On the day of Jo and Nigel's wedding, our Hog Roast Scunthorpe Head Chef Rob and his team turned up at the venue hours before the time of food service. It takes a good few hours to roast a hog from scratch, and we lovingly prepare the meat on-site by scoring it all over, adding water and massaging in plenty of salt, which makes the crackling, and then we watch over it as it slowly roasts to perfection. By 4.30pm, our team had done an amazing job with the presentation of the food and it was finally time to satisfy the guests' hunger with its gorgeous taste too.