You may well know Hog Roast Norwich as a renowned catering service that feeds the masses with gorgeous hog and spit roasts and many other culinary options, too. However, we have more strings to our bow that you may not know about, and that includes designing and building our own world-class machines and selling them right here in the UK as well as all over the world. Our hog roast machines have taken years to perfect and our range is simply stunning. We think they're best seen in person, and you can do just that by booking an appointment with us to have a tour around our factory and showroom in the northwest of England.
In order to check out our full range of machines, our new customer Tomas called Hog Roast Norwich to arrange an appointment. Since moving to the UK from Portugal, chef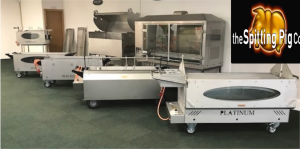 Tomas has been working hard building his own catering business and he saw a gap in the market for cooking with a hog roast machines like one of ours, at weddings, corporate events and all kinds of private parties. Having cooked with them before, many times, Tomas was keen to buy one for his business, so we booked him in to meet our team at the factory, to see a machine being hand-built from scratch, to talk to our engineers and then be shown our range to see which would be most suitable for his needs.
Once Tomas arrived at the factory, he was keen to see a machine being built, and he watched, transfixed, as we put together our best-selling Titan. Then after chatting to our engineers and finding out more about each machine and their pros and cons, he had a walk around the showroom, checking out all the different equipment. By the end of the visit, Tomas had decided that the Titan itself would be perfect for his catering needs and he bought one there and then.
If you're thinking of buying your own machine, call Hog Roast Norwich and arrange to speak to our specialists in person. You won't regret that you did and neither will your customers or their guests!