We've just received yet another bit of fab feedback from a happy buyer of one of our incredibly popular Platinum hog roasting machines! This time it can from Steve, the Catering Manager at a local football club. His trusty barbeque had served him well at events over the long, hot summer, but with the temperatures now dropping and the skies clouding over again, Steven knew it was time to put it into hibernation for winter. He decided the club needed to upgrade its cooking equipment, especially as it was becoming an increasingly popular venue for functions, as well as providing food on match days, and he wanted something that was user friendly and versatile enough to be used all year round. His research led him to our website, and after discussing his requirements, our customer service team then swiftly led him to the Platinum!
Steve is absolutely over the moon with its performance, the awesome results it produces and its multi-functionality! Having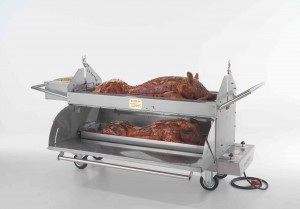 experimented with its many facets at different functions, he loves how it can cook two whole pigs at the same time for big events or be used as a normal barbeque on top whilst the pork is cooking underneath. He has even managed to prepare all his potato and vegetable dishes using the Platinum too and said his kitchen has practically become redundant since purchasing it! What's more, because it can be used effectively both indoors and outdoors, he can still capture that sociable barbeque feel during the winter months, especially when his diners can watch the meat cooking through the glass panel at the front of the machine.
Because the Platinum can do so much with so little effort Steve has grown in confidence about the type of events the club can cater for and he has now branched out into corporate catering and has several bookings for company events! It seems the sky is the limit for Steve and the football club since buying the Platinum and having improved their status as event caterers, all they need to do now is try to win a few more matches and improve their position in the league!