While we have a lot of local customers, Hog Roast Colsterworth often gets called out to cater elsewhere, whether it be a bit further away or across counties, and either by customer request or to fill in for another franchise. Just recently, we were asked to cater at Healthcare at Home, which is located on Station Street in Staffordshire's Burton-on-Trent. Healthcare at Home is known as the UK's leading full-service clinical provider of out-of-hospital healthcare, wherever customers need it, so at home or work or out in the community.
For this event, Irene asked us to cook our Menu 4 for 50 guests. Menu 4 is hog roast dining at its finest, where we prepare, cook and serve a succulent pig at your venue, and it's enjoyed together with our own homemade apple sauce and sage and onion stuffing, salads or seasonal vegetables, and a potato option, as well as crusty bread rolls and wraps and a selection of sauces like mustard, tomato, bbq and tzatziki. We're keen to give our customers plenty of choice and variety so we offer several salad options such as fresh green leaf, tomato and basil, carrot and orange with a sesame dressing, Waldorf, classic Caesar, our homemade coleslaw, and crispy Thai, and with regards the potato option, you can choose from jacket wedges, our new potato salad, warm new potatoes in a herb butter, baked potatoes, or even new potatoes roasted with rosemary and garlic.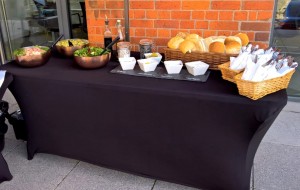 On the day of the Healthcare at Home party, our Hog Roast Colsterworth Head Chef Rob and his team arrived in good time to start preparing the pig before cooking it for several hours at a low temperature. We watch over it as it sizzles away. Rob is an ex-military chef and this really shows in his work as everything is always pristine, clean, smart, and well-presented and he always has very happy clients. It would be no different on this day in Burton-on-Trent!
Hog Roast Colsterworth served a scrumptious hog together with a variety of salads served in lovely copper bowls and our tasty roasted potatoes and everything looked just as good as it tasted.