Whether you have had to cancel an event or you are understandably feeling a bit down in the dumps about not being able to socialise with your friends and wider family because of the limitations on social gatherings that are currently in place, the Hog Roast Fishguard team are here to help! As with so many other caterers, we are having to adapt to continually changing circumstances, and although we cannot cater for as many events as we normally would at the moment, we haven't let this stand in the way of doing what we love – providing our clients with fantastic hog roast feasts! Our innovative approach to catering and our ability to think outside the box have always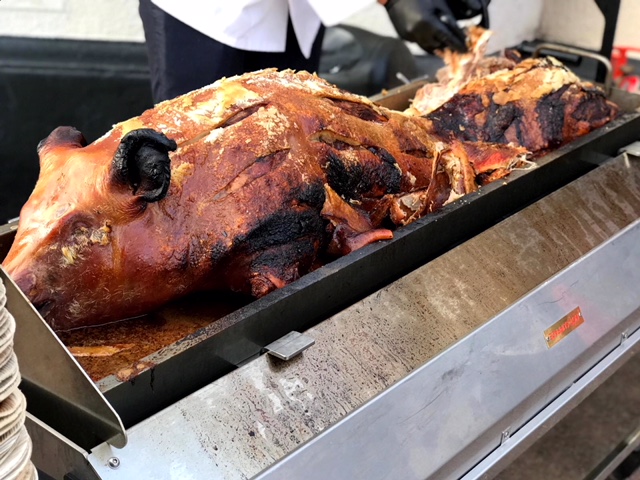 been key ingredients in our success in hog roast catering, so it didn't take us long to come up with a way of still providing you with some fabulous slow roasted pork even if your event has been postponed or called off. We have now set up a home delivery service, so you and your family can enjoy a hog roast treat for a special occasion without you even having to leave the house!
From the moment you place your order until the moment we drop your food off, the entire process will be incredibly easy and straightforward for you. The Hog Roast Fishguard team will freshly prepare your melt-in-the-mouth slow roasted pork and all of the other dishes you order to the same excellent standard that you would expect from enjoying our food at an event, and using the same unbeatable ethically reared meat and locally sourced ingredients. We will deliver your order promptly at the agreed time, adhering to social distancing regulations at all times, then leave you and your family to enjoy a hearty hog roast spread from the comfort of your own sofa!
Whether you are celebrating a special birthday or anniversary, or you simply want to give your family a well-deserved treat and something to look forward to, one of Hog Roast Fishguard's freshly made home delivered hog roast meals is the perfect dining option for any occasion!