We've spent many years perfecting a quality hog roast Isleham product, sourcing meat from trusted local suppliers and only using fresh ingredients. But did you know that, despite our name, we offer a selection of tasty meats for a spit roast, such as chicken, turkey, beef and lamb and homemade burgers and sausages for barbecues? Not only that, but we can also supply all kinds of accompaniments, including garden fresh salads, potatoes cooked in different styles and even posh nosh like canapés if you're having a glitzier affair. Plus for guests with any kind of dietary requirement, we offer suitable alternative dishes, like vegetarian tarts, vegan stuffed mushrooms or gluten-free possibilities.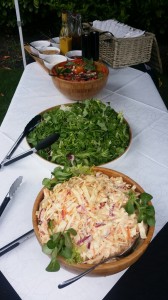 For Margaret's 60th birthday, her 3 daughters organised for The Spitting Pig to cater her surprise party with a hog roast Isleham - succulent slow-roasted hog served in soft, floured bread rolls together with stuffing and apple sauce. We also call this 'pigs in buns' and it's hugely popular with our customers. There would also be a selection of salads, coleslaw and a tray of warm new potatoes in a herb butter, as well as a few gluten-free bread rolls for 2 of the guests.
This morning, our team arrived on-site at the hotel venue and set up our gazebo, serving station and hog roast Isleham machine. One of Margaret's daughters had prepared a lovely cider marinade that she wanted us to smother the skin with before cooking, so after I scored the meat, I added the marinade and some salt so that we would get some nice crackling, too. This medium sized hog would take a few hours to slowly roast, and we needed to keep watch over it, ensuring the heat stayed low and the flame stayed lit.
The guests arrived well ahead of the birthday girl, and we got so many compliments about the wonderful smells and the spectacle of the hog roast Isleham in the pretty gardens. Once the hog was resting, we got on with preparing the salads and extras, and it was finally time for Margaret to arrive and see her surprise. There were a few happy tears and then Margaret was first in line for a delicious hog roast roll, stuffed with salty, crunchy crackling, tender, juicy pork, and our yummy homemade sage and onion stuffing and apple sauce.