Earlier today we welcomed Guy to our factory, to show him around and introduce him to the hog roast machines that we designed ourselves and that we manufacture here in the north of England. We sell our machines both in-store and online and Guy asked to see our full range in person. While not a professional caterer, he told us that he does a lot of domestic catering at home for parties and family celebrations and decided that he wanted to branch out from summer barbecuing to year-round hog and spit roasting. We explained that even though some of our equipment is suitable for professional catering, that doesn't mean they are not also suitable for the domestic market, and we also have smaller machines if preferred. We sell various machines including the Titan, Hogmaster, Hogmaster Pro, the Platinum, as well as the Olympian.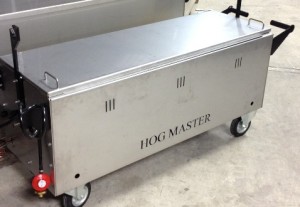 As we showed Guy around our factory, we let him know that a hog roast machine is versatile enough for you to cook many home-cooked meals in as well. Something you may not know is that you can even cook an entire meal of meat, potatoes and vegetables in one of our machines! For example, you can be roasting your pig or spit roasting chicken on the top level while using the tray underneath to cook your vegetables and new potatoes as well as baked potatoes at the same time. Cooking your veg this way is often easier and you can get some great flavours and textures, especially with root vegetables. Some of our customers have now even ditched oven cooking.
Additionally, with the attachments that you get with your purchase, you can barbecue burgers or sausages, which means Guy can still have his summer BBQs even when leaving his old barbecue equipment in the shed.
One of the things we should also mention is how easy it is to manoeuvre one of our hog roast machines, in case you want to take it to cook elsewhere. You might want to show off your skills at a friend's house or cook in the park. Our steering mechanism means you can do so with ease.
Guy was impressed and happily went home to talk about the future investment with his wife, including the fact that you can pay by installments.