As leading caterers and experts in the field of hog roasting, people are always pleasantly surprised to learn that in addition to catering ourselves we also sell our machines to other caterers and members of the public.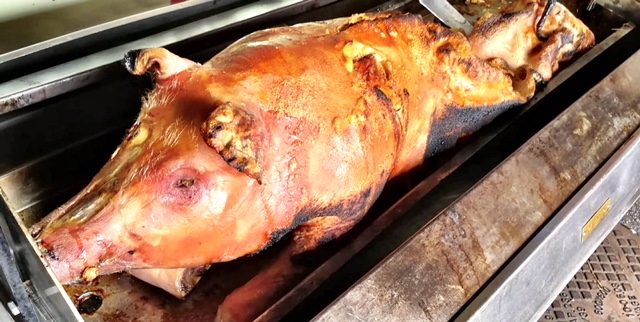 Dean was a caterer himself for a local business and wanted to enquire about purchasing the Titan machine. The Titan is one of our largest and most durable machines capable of roasting up to two hogs at once thanks to its dual roasting trays and can be combined with a range of attachments that make it versatile for any style of cooking. In addition, it is still completely portable and can be manned by just one person if needs be which is what attracted Dean as he often catered just by himself. Although he had his heart set on the Titan, we still invited Dean to visit our Hog Roast March team at our showroom in the north-west so he could try out our machines before taking the plunge and investing in his own.
Once at our showroom, we gave Dean the tour and a quick crash course on hog roast catering. Dean told us that he had been catering for going on ten years now but that he had never actually tried cooking Hog Roast March style so was eager to learn. He was also surprised to see how our machines really do take on all the hard work for you, and that as the chef all that's really needed is a quick check on the meat every couple of hours and you're sorted!
Still smitten with the Titan, Dean went ahead and placed an order there and then. We can't wait to hear how your hog roasting goes Dean, and as always feel free to get in touch should you need any recipes or inspiration!