You may be surprised to know that a hog roast machine is versatile and able to cook much more than just a pig. At The Spitting Pig, we manufacture our own machines and have made them with versatility in mind, so whether you hire or buy one from us, you actually get more than you might have originally bargained for. Both professional and non-professional cooks can benefit from one of our machines when cooking all kinds of joints of meat, including of course a hog, but also a variety of others such as lamb or a side of beef. However, we also have accessories that mean you can barbecue sausages, burgers or kebabs with ease, or you could even roast up to 36 chickens with the chicken spit accessory.
When local mechanic Dan called us to ask about our own machines, we invited him to take a look for himself. We showed him round our innovative and sleek options, including the very popular Titan and the Hog Master Pro. Despite having never used a hog roast machine yet, Dan was seriously thinking of leaving auto mechanic work behind and going into catering. He needed to find a hog roasting machine that was reliable, recommended, stress-free and easy to use. He'd come to the right place, for sure!
We explained that our machines are CE marked, so you know you can trust them, and when you purchase one, you get a comprehensive year-long warranty. We demonstrated the simplicity of cooking with one of our machines, both large and small, and walked him through a typical day of catering with one. Even if you invest in a smaller machine for home-use, you can save money over the years. However, we also know that it isn't an easy decision when you've decided to invest in equipment like this, so we recommended that Dan hired one first, to try it out for himself before committing.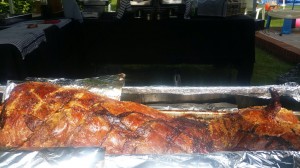 Dan hired a machine to try at home and returned the very next day with his wife to help him choose their brand-new commercial one. Their home hog roast had been a success and they were both excited for their new adventure to begin.