As a chef (and also as a consumer), I cannot stress enough the importance of using quality ingredients when cooking. It's all about the taste and you get that when you buy and use quality stuff. If you haven't enjoyed one of our hog or spit roasts yet, you'll understand what I mean once you do try it, as our food always tastes fresh and delicious; that's because we use butchers and other suppliers who we know and trust to supply us with fresh, quality food. Whether we're catering a wedding, birthday party, school fête or baby shower, we are always inundated with compliments about the flavour and the freshness of our food. Not only that but the tantalising smells of a juicy hog roasting away for hours can make people dizzy with hunger.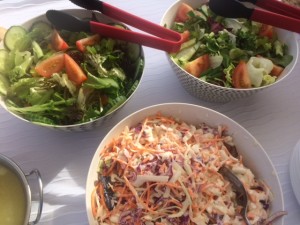 We catered a birthday party over the weekend where some of the guests jokingly complained that we were taking too long to cook the huge hog in Harthill – the aromas were driving them mad and they couldn't wait to dig in. Darren was celebrating his 40th in his large back garden with lots of friends, neighbours, workmates and family members. He asked us to provide a large pig to feed around 65 guests, as well as some nice mixed salads and coleslaw. Hiring us to do your hog roast catering can often save you money compared to other catering services; an average-sized pig can feed around 100 guests or more, but in this case, the birthday boy requested a large hog roast in Harthill instead, stating that there would be no waste as any leftovers would be either eaten on the day (some of his friends have very large appetites) or would be chilled or frozen for later consumption.
After setting up and preparing the pig in Harthill in Darren's garden on the day, we roasted it for well over 7 hours, until it was golden brown and crispy with crackling. The guests had arrived while it was still cooking, so by now, they were all ready and eager to try our tasty food – roasted pork in floury bread rolls, topped with our special apple sauce and stuffing. It went down a storm and even though people went back for seconds, thirds or more, there were plenty of slices left for another day.