When catering events and parties, we pride ourselves on offering our customers plenty of food choices, but did you know that this also extends to dietary restrictions? Whether you have a food allergy or intolerance, religious restrictions, or have chosen to follow a particular diet like vegan or vegetarian, The Spitting Pig can help provide you with the resources to make an informed choice with your party menu.
Gluten-free guests? They can still enjoy our delicious hog roast Cottingham just like everyone else, as we can provide gluten-free bread rolls. Vegetarian or vegan guests? Our chefs can whip up some suitable homemade options such as Spanish quiche, vegetable medley tart or stuffed mushrooms or peppers. If you let us know in advance, we can easily cater for additional dietary requirements, like we did for Billy's birthday party yesterday.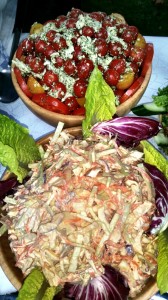 As Billy was turning 50, he wanted to celebrate with something extravagant and yet simple – an informal gathering for his friends and family, but with something special that his guests would never forget. That's where we came in! Billy called us to book our infamous hog roast Cottingham, but needed to also order several alternatives for some of his guests with dietary restrictions. For his parents, the two gluten-intolerant guests, Billy was relieved to hear that they could still eat everything inside our pigs in buns (the pork and crackling, homemade stuffing and apple sauce), just with gluten-free bread rolls instead. There would also be two vegetarians and a vegan, who all requested that Billy ask us if we could provide a handmade vegan burger with avocado and tomato relish (as one of them had eaten this at one of our hog roasts in the past and had loved it!) This wouldn't be a problem at all – we don't just serve lettuce sandwiches to our veggie guests!
Yesterday came around and we spent a few hours catering for lots of happy guests. We had a great time listening to compliment after compliment about our stunning slow-cooked hog roast Cottingham, as well as the vegan burger and the gluten-free rolls. Billy's already booked us in for a Christmas hog roast, too!