Kids' themed birthday parties tend to be great fun, and when combined with a hog roast in Wilstone feast, what else could be better? For Ailsa's seaside theme party for her 12th birthday, her parents had invited her friends from school to enjoy our catering services at the family's country home. This would be a smallish party of around 20 guests altogether, with a menu of freshly-cooked hog roast rolls, freshly-prepared salads and freshly-baked potatoes for those who preferred a different food option. As you can see, we are pretty much obsessed with fresh ingredients, as everything tastes better and they are so much better for your health!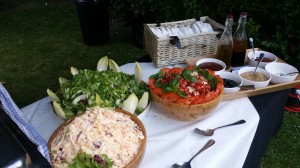 The hog roast in Wilstone for Ailsa's party would be the main feature, and for a group of people this size, I took along one of our small hog roast machines to do the job. A smallish pig was required, and there would still be enough meat for leftovers afterwards, which the family could chill or freeze for later. I also took along fresh, floured bread rolls, our tangy apple sauce and homemade stuffing, as well as some simple salad dishes of leaves and coleslaw and the potatoes to bake in foil underneath the meat.
Setting up the gazebo, hog roast machine and serving table didn't take me long at all, and then I was busy preparing the hog for its roasting. I scored the pig in diagonal shapes all over, added some water to keep it moist and then rubbed salt in the skin in order to make the crispy crackling. Even a small pig can take 3 or 4 hours to cook and I kept a watchful eye on it to ensure it was cooking evenly.
Time always flies when you're having fun, and after I watched the garden transformed into a sandy beach, complete with inflatable palm trees and striped deck chairs, it was time to sort out the salads and sauces. A last-minute vegetarian guest was perfectly content with her baked potato, salad and coleslaw, while Ailsa and the rest of the guests all happily munched their way through lots of slices of our juicy meat and salty crackling stuffed into the bread rolls. I stripped the pig clean so they could help themselves to more later, discreetly cleaned up and left them to their fun.