You may have seen our excellent catering service advertised but did you know that you can hire or buy a hog roast machine from us, too? We manufacture our hog roasting machines ourselves in our own factory and we welcome customers to book an appointment to visit us. You can have a look around the factory and see the machines that we designed actually being made, chat with us about your particular requirements and see all the finished products in our showroom.
We produce the Titan, Hogmaster, Hogmaster Pro, Platinum and Olympian hog roasting machines, and they can all be used for much more than roasting a hog if you so choose. With the attachments provided, you can instead spit roast a chicken, turkey or a joint of beef, for example, and you can barbecue burgers and sausages with the other attachments. You can even cook all of your vegetables and potatoes under the meat, in the lower half of the machine, and you could have a great big pile of baking potatoes on one side, too. As you can see, you can use our equipment to cook an entire meal for your event or occasion, or even just for a home-cooked meal at home!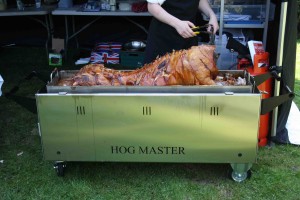 Dennis booked an appointment with us recently, so that we could show him around the factory and show off our wares to him in the showroom. He is a repeat customer of ours, having used our catering services in the past and he has also rented our machines for his own DIY hog roasts. We often have domestic customers buying our products, especially once they have hired a machine from us and have found out just how easy it is to use. While many of our customers are professionals in the catering business, some, like Dennis, want a hog roasting machine just to use at home, whether occasionally instead of the BBQ or to completely replace the kitchen oven. Plus they are mobile, so you could cook at friends' houses, too.
As Dennis had hired our Hogmaster in the past and was happy with how to use it and how well it cooked meat, he was set on buying one. Although we may not see him as much now that he has one of his own, we're sure he will keep in touch.