Click Here To View Our Festive Menu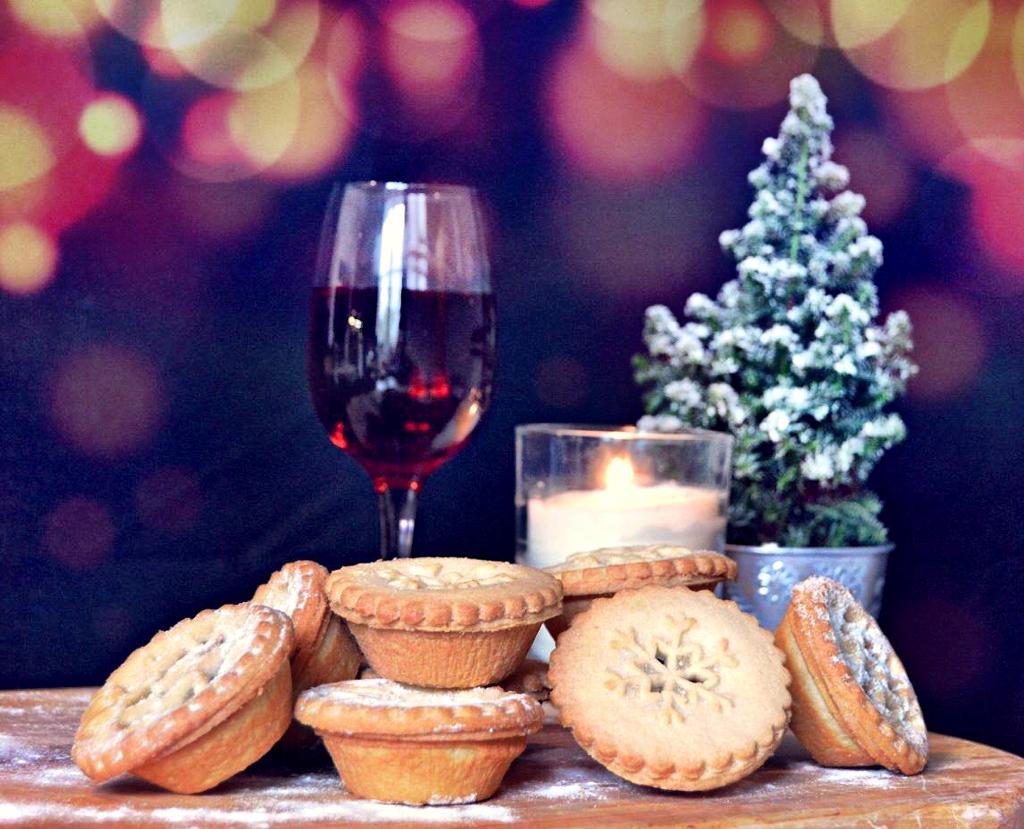 As a company, we run as a dedicated group of people who all share a deep-seated love for all things hog roast orientated. For many of you across the country who have experienced the vast amount of catering services which we have on offer, you will all be aware of our passionate approach to our catering aspects, and this is something which we also extend into the festive period.
Christmas is the one time of year where people across the country really get the chance to spend quality time together. Although other periods of leisure and vacations exist during the British calendar year, it is seldom the case that summer holidays or Easter breaks facilitate the same sort of family activity as the Christmas holidays do. Therefore, in our eyes and many others, it is important to get the most out of the Christmas period, as after all, time is finite and quality time ought to be maximised.
Corporate Christmas functions
During the festive period itself, many corporations and private customers alike enjoy having Christmas functions which allow everyone to have a great time and tie up the end of the year with a bang, so to speak. At corporate events, the office party at then end of the year is something of an institution within the United Kingdom, as is the festive parties which symbolise the fun-loving natures of the factory floor, with wonderful and vibrant corporate based parties within 'blue-collar' employees.
With many of us here at The Spitting Pig having had employment histories within various forms of industries, we have a vast wealth of experience as regards corporate parties; their advantages and their practical misgivings. First and foremost, the Christmas party is by no means all about the food, as it is at these events where people can revel in each others company to the backdrop of good (although often so very, very bad) music and laughter.
Although great fun, it is the idea that although food plays a vital and pivotal role, the fact that many accept mediocre food in exchange for good company that has allowed average food at Christmas time to become the norm, across the majority of catered events undertaken within Britain. In many other countries in Europe, the idea that mediocre food would be paid for and celebrated is one that would be met with gesticulatory consternation, however this attitude is not adopted in Britain as we are often too nice to complain about food which fails to thrill us.
A festive dining experience you will not forget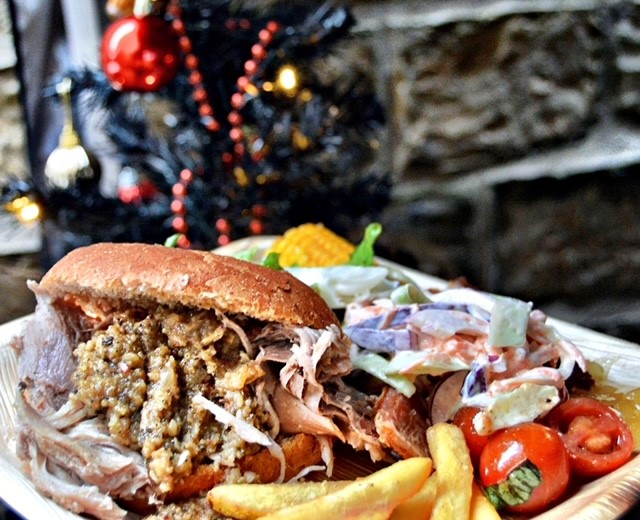 This notion of mediocrity pervading the palates of the nation was part of the reason why we started as a company in the first place, and it was certainly the reason why our growth became exponential almost instantly. Due to our steadfast alignment with a few key foundation issues, we were able to grow quickly, but in a manner which allowed us to become reflective, and thus exceptional in the field of providing great food. Within our Christmas and festive catering services, we apply all of our knowledge in the form of our tailored and eclectic services in order to provide you, our customers, with a dining experience which you will not forget. Full of the magic that makes Christmas so enjoyable, our catered solutions have helped to forge beautiful memories and fantastic occasions.
There are many reasons to hire and adopt our varied hog and spit roast services over the Christmas period. First and foremost, our spit roasted approach to cuisine fits the hand of Christmas like a silken glove. Historically, there was a huge class divide across the whole nation, and much of the entirety of the western world. This disparity, which can be seen today in many developing nations manifests a societal situation where there is a very rich elite composed of very few in number, alongside the vast majority of the population which resides on, near or below the poverty line. Thus, the turkey roast as Christmas was a meal which was savoured as many people, throughout the rest of the year, could not afford to eat well. Thus, the magic of such a meal was epic in the minds of the whole family, as at this one time of year food was simply a different class to what had been available during the year.
Today, in contrast, the majority of people within Britain can afford to eat moderately well, and it is because of this that the Christmas meal is not as well anticipated as even the most optimistic of us may believe. With this in mind, our menus and cooking style allow us to infuse that excitement back into the British menus, which is something we love almost as much as some of our previous customers! Our stunningly gorgeous hog and spit roasting machines kick off the atmosphere, as they provide the stunning visual backdrop which our services love to portray.
Beautifully seasoned turkeys
Within each of our machines, and on our specifically designed rotisseries, our machines make light work of roasting 35 turkeys at a time, all slowly and with real flames. This creates the most stunning tasting turkey which you will taste. Normally, even when turkey is roasted very carefully with all the old-wives-tales being adhered to in practice, it is often the case that the meat is quite dry and lacking in moist tenderness. With our methods, however, this notion of dryness is completely dismissed. As the turkeys are roasted whole, the meat is packed full of natural basting fluids to begin with. This is accentuated by the fact that we source meats which are simply stunning in terms of quality and pedigree, which further enhances the amount to which our meats can gain the juicy benefit. Once on the spits, our machines then allow our beautifully seasoned turkeys to turn and slowly roast towards their golden and wonderful hue.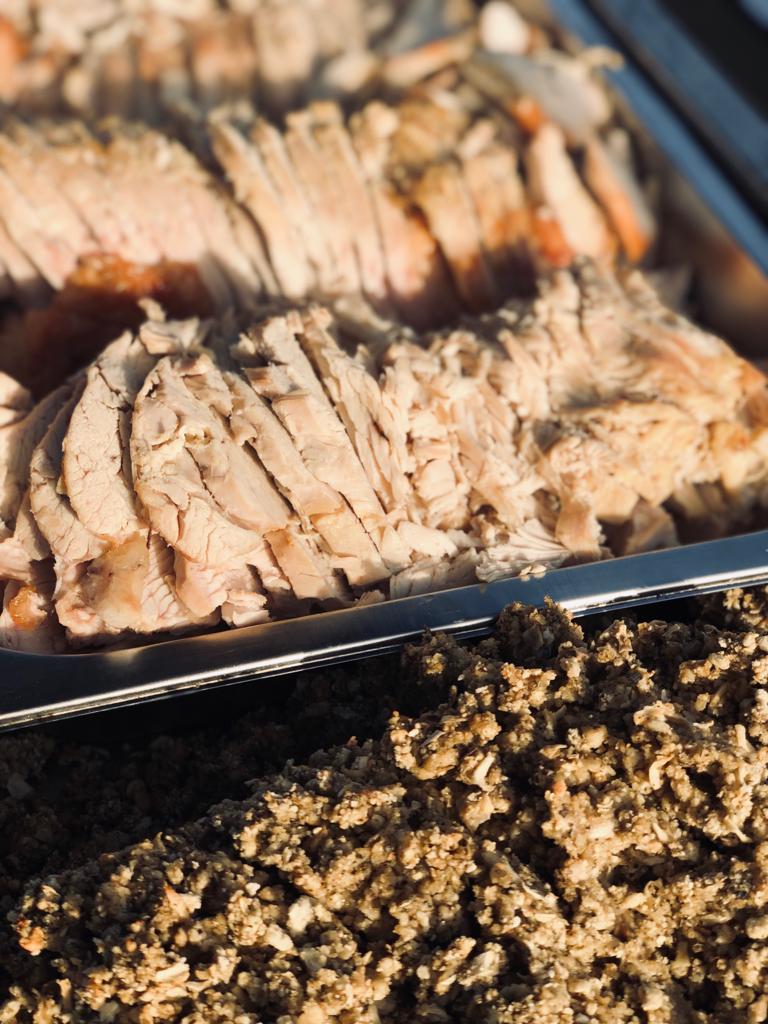 The turning action of the machine and rotisseries creates a roasting scenario where the meat is treated to a situation where the meat is subjected to a process with severe levels of moisture retention; and this is how it works: As the turkey turn and slowly gains temperature, the juices run form the body of the turkey and collect the seasoning as it travels. As the turkey turns, the turkey redistributes the juices laden with seasoning onto a different part of the carcass. This is then re-absorbed into the flesh of the bird and drawn in deep, allowing the seasoning's and basting fluids to be re-distributed inside the bird. The effect of this simply cannot be described, as the tastes have made our customers, in the past, very emotional indeed.
Thus, whilst also bearing in mind that more traditional methods of cooking have allowed a potentially dim view of festive food, our methods for meat preparation help to create food which is of an immense scale, both in terms of taste and quantity. Added to this are our well sourced and beautifully roasted vegetables, which help to make our menus some of the most comprehensive and stunning collections of cuisine in the country.
A broad range of spit roasting choices
One of our key foundations as regards our entire culinary operation is our commitment to providing our customers with a broad range of choices. Our attitude towards choice is something we hold dear, as it is our choices in life which not only define us in the eyes of others, but also in ourselves. Thus, our customers, when organising a party or an occasion, can take advantage of our huge and eclectic choices in order to maximise the function, as well as to better represent the desires of said customer within the function itself. In terms of our Christmas and festive menus, we offer all of our other menu options as well, which means that you are not hemmed in by tradition, but, moreover, our customers are free to commit themselves to whichever path they see fit as regards the food they wish to have.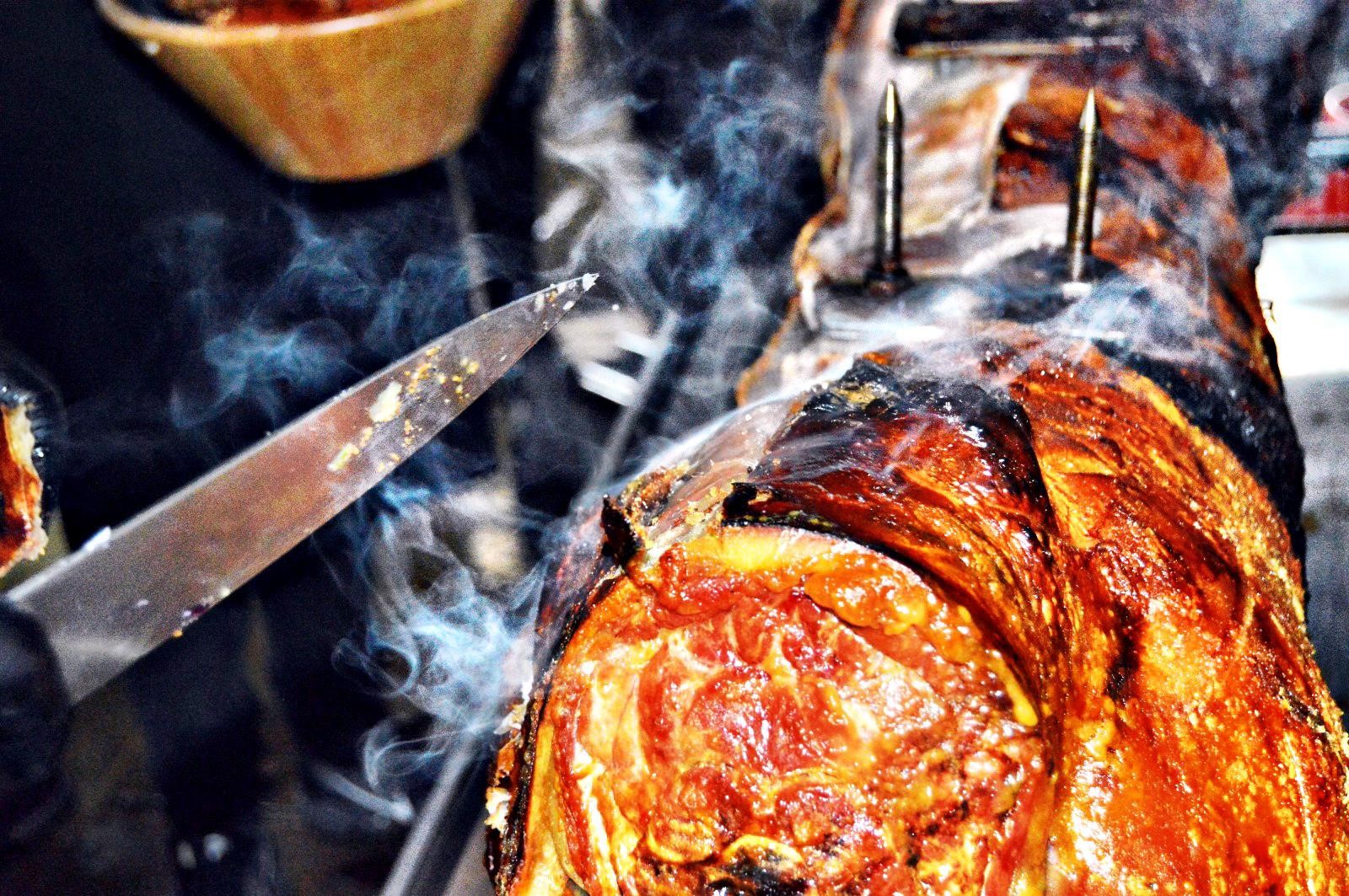 Along with great menu choices and a cooking method which truly demolishes the notion that turkey is a dry meat, our catering services at Christmas are so incredibly reasonable, and this is something which has been achieved with dedication on our behalf. First and foremost, all of our meats are roasted whole, and are thus source in their whole state by us. Due to our long history in the business, coupled with our un-flinching approach towards providing only the best quality food, our ability to source the finest meat has always been a great source of inspiration to our chefs.
Also, due to our large consumption in conjunction with the face that our meats aren't filleted on pre-prepared, the savings we can offer to our customers as the end price are highly substantial. Through this, our Christmas catered menus are not only made with the most sumptuous of ingredients, but are also roasted in a process which is glorious, time honoured and perfectly suited to the season. With the costs so low, our Christmas hog and spit roast catering services are some of the cheapest around, which means that only a fool would reasonably choose middle-of-the-road party catering when they could enjoy a wonderful sensory dining experience such as the ones we offer, for a fraction of the price.
Why choose spit roasted catered events?
Great for office and factory floors (as well as the private functions that we all have across the country) our roasting methods and menus are brilliantly suited when it comes to dining for large numbers of people. Our whole meats suit this purpose perfectly, and when you consider that in just two and a half hours one machine can roast 35 turkeys, it is clear to see how we can perform if necessary. Couple this with the fact that our fully qualified chefs and service staff love rising to a challenge, and that we can, with ease, take more than one machine to any function, it is clear to see further how our catering solutions can easily feed thousands of people if need be, with relative ease.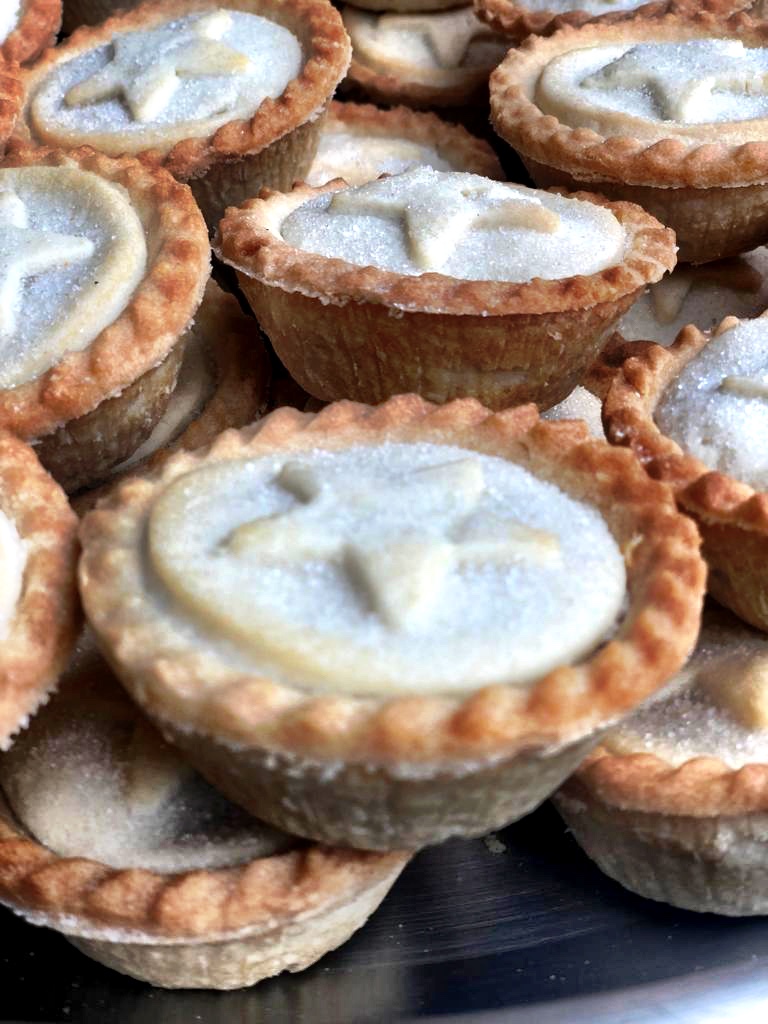 With food quality that cannot be paralleled, we continue to wow our customers during Christmas time in the same way as our other catered events thrill our customers through the rest of the calendar year. The final piece de resistance comes in the form of the overall atmosphere and scenario that our spit roasted catered events deliver to our customers. In fitting with the notion that Christmas ought to be a time when the whole family can really enjoy themselves, our spit roasted catered events really add zest to this. With whole turning creatures to the backdrop of lovely, dancing flames, our guests can revel in a party atmosphere which can partially connect them to a time gone by, where animals were roasted whole, and with much decadence. Children as well as adults are overcome with enjoyment at the sight of our glorious pit roasting machines, which can roast indoors or outdoors, with the ease and grace of a swan on the water. Take advantage of our wonderful personal service whilst also witnessing a beautiful spectacle. Follow this with food which tastes beyond anything you can imagine; and welcome to the world of Christmas spit roasted beauty.