Here at Hog Roast Woking we offer a wide range of different menus. We can cater to any and all dietary needs and will roast any meat of your choosing from lamb and beef to chicken and duck. Vegetarian and vegan guests need not worry as each of our professional Hog Roast Woking chefs are able to create delicious meat free alternatives not to mention also providing gluten, dairy and nut free options.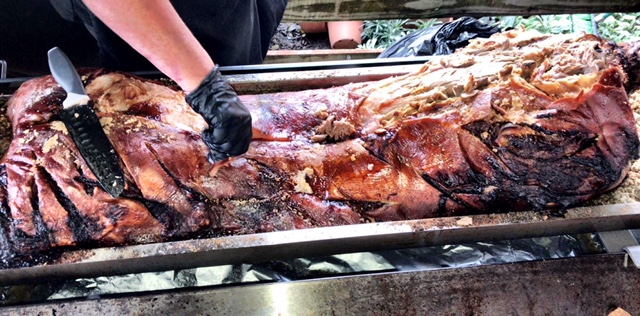 Despite our wide range of menu options, sometimes simple is best. Our classic Hog Roast Woking remains as popular as ever and just this week our catering manager Matt was out and about at an event prepping this signature menu.
We had been contacted by Carrie who was organising an event to celebrate the New Life Church in Old Woking being open for a grand ninety years! What a lovely event, of course Matt was thrilled to be able to host and got to work straight away planning a menu for members of the community who would be attending.
Carrie had requested our classic Hog Roast Woking. This menu includes a whole roasted hog that we cook in our roasting trays for several hours before carving and placing into freshly baked bread rolls. This is then topped with hearty sage and onion stuffing, applesauce to taste and layers of crispy crackling. For the vegetarian guests we created some delicious grilled vegetable and halloumi skewers along with accompaniments of mixed salad and crunchy coleslaw.
Once guests arrived to celebrate the church, we began to serve up our food on wooden bamboo crockery and cutlery. As guests mingled and chatted to one another whilst enjoying our hog roast, we took the time to take in the beauty of the church. It was easy to see why it brought the community together and we are sure it will be here in another ninety years too!