This weekend we travelled down to Southampton, our final destination a suburb in Midanbury, where a young family were celebrating their son's graduation with a modest 100 guests. We set off early in the day as the requested serving time was 2pm and we had some travelling to do. As soon as we arrived our chefs and assistants setup our top of the line roasting machines and seasoned and started slowly cooking our meat options. Consisting of our classic hog, a brisket of beef as well as lamb. The day before we marinated our meat to infuse it with even more explosions of flavour to amplify the luscious taste and make it even more mouth watering.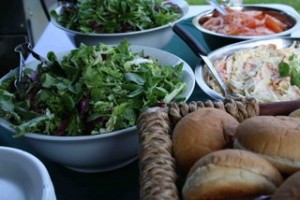 The day was sunny and we setup our gazebo for cooking in the hosts beautiful back garden full of wildlife and clearly cared for. Preparing food isn't our only responsibility, we also have to organise where the guests will eat by laying out all the napkins and crockery, our responsibility is always to provide a full service. As well as all our meat options, we had other food to cook. On this occasion this included jacket potato, vegetarian options of lasagne and stir fry (It's important to cater for all!), quiches and our more common options, including homemade stuffing and sauces, crackling and a variety of sauces with crispy fresh salads and bread rolls. Over the course of preparation guests came over to socialise, drawn by the enchanting aroma, and showed their anticipation for the hog roast in Midanbury.
As serving time arrived, clouds started to cover the sky and the temperature lowered, making our hot scrumptious hog roast in Midanbury the perfect thing to help bring guests some warmth! It didn't take us long to organise the buffet and to delicately carve the meat and once we had guests queued up eager to collect a plateful of food, all of which they thoroughly enjoyed and came back for more. By the end we were left with no food and a set of smiling faces and happy guests. All that was left at the end was to pack up what was left, dispose of the little waste we had, and travel back to our catering unit, and prepare for our next job.