When Ronnie and Daniel called us last year to book their wedding catering for this summer, they had barely planned anything except the food. They both knew they wanted the theatre of a hog roast in Buckworth centrepiece for their wedding reception, and would work out the rest later.
While we have several wedding menus for you to peruse, they are really samples of what we can do, as we can help to plan the catering to your liking. You can create your own wedding menu or use one of ours as a guide instead. Whatever you choose to do, it's your special day, and we want to help you make it a great success with our wonderful food and professional service.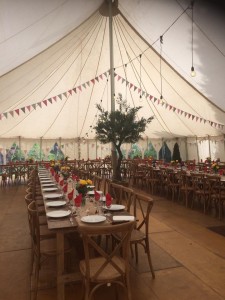 The food is arguably the most important aspect when planning the wedding reception itself, and we've catered so many that we can certainly now call ourselves experts. We prepare the food on-site on the event day, so you know that it's fresh, and we use only quality ingredients, whether it's the meat, salad or desserts that we can supply. You may prefer a spit roast or barbecue on your big day, or a posh affair with hors d'oeuvres and a sit-down menu, and we can do it all. However, Ronnie and Daniel were set on having our hog roast rolls for the main course, served buffet-style and the rest of the menu would be fairly informal in style, too.
As the couple posed for the wedding photographer at their lovely venue (an old barn which had been converted into a romantic setting for their reception), our team welcomed their guests with a canapés and drinks service. After the speeches, the hog roast in Buckworth main was served nice and hot on soft, floury buns, together with apple sauce, stuffing, and bits of crispy crackling that we had carved off before slicing into the meat. A vegetarian alternative of Spanish quiche was served, too, as well as seasonal vegetables and our new potatoes. A dessert of summer berries and strawberries finished off the food service beautifully, and then we discreetly cleared away as the bride and groom made their way to the dance floor.