Did you know that here at The Spitting Pig, we actually make our own hog roast machines? The machines that we hire out to customers so you can 'do it yourself' and the machines that we use when catering many kinds of events are all ones that we designed and that we make in our factory in the northwest of England. We build several different machines in our factory and display them in our showroom and our fantastic range includes the stainless steel Titan, Hogmaster, Hogmaster Pro, Olympian, and Platinum.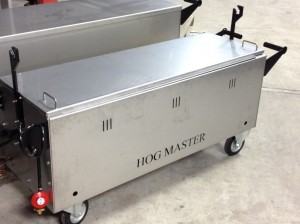 If you're interested in purchasing one for yourself to use at home, or one of our professional grade machines for your business perhaps, you are more than welcome to make an appointment with us so that you can have a look around our factory and watch them being built. You'll be able to see our workers using the top materials and adhering to the highest safety levels while manufacturing our high-quality and extremely popular hog roasting machines. After our factory workers have walked you through what we make, our design team can talk you through it, too.
Our new customer Dale made an appointment to see us at our factory just last week, as he had found our website and was interested in buying a machine to add to his catering business. He was surprised to find out that a hog roasting machine is easier to use than you might think and before he made the commitment to buying his own machine, we recommended that he hired one first. Dale agreed and we dropped off the machine at the weekend and gave him pointers on how to use it until he was comfortable. He was so comfortable that the next day he called us to ask if he could hire it for another few days to see how it fared in his business and by yesterday, he had ordered one of his own.
Whether you need hard-working, professional, dedicated caterers for your party or event, a machine to hire so that you can DIY or if you want to buy a hog roast machine, call us today and have a chat with our experts.