If you have a party or function coming up and need the stress of the catering taken care of, check out the different menu options on our website. You can even create a bespoke menu for your event or ask us to help create you one, tailored to your specific needs. Don't be fooled by our name, either, as we can provide much more than a hog roast for your party, if so wanted. The Spitting Pig provides a wide range of food options to both the general public and businesses across the country, including spit roasts, barbecues, and salads, using our very own top-class machines that we design and build ourselves. Plus if any of your guests have any particular dietary requirements, we can provide vegetarian, vegan, gluten-free and wheat-free options if needed (just ask us about any requirements in advance and we'll help you to make your event a success).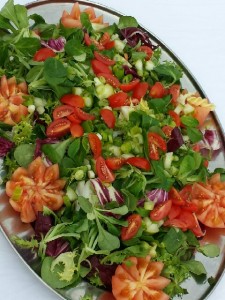 For Jane's 40th last night, she wanted a hog roast in Winsford and asked us to provide our famous hog roast sandwiches and an option for her gluten-free guests. Our hog roast itself is already suitable, but we could easily provide extra gluten-free bread rolls so that these guests could also enjoy the hog roast rolls, too. She also wanted a couple of garden-fresh salad dishes and chose our very popular carrot and orange salad that has a sesame dressing and a sweet avocado and cherry tomato salad that always goes down a treat.
Fresh, quality food and excellent customer service are our top priorities when catering, and this was no different when we catered the hog roast in Winsford for Jane's birthday party. We arrived at the lovely venue nice and early in the morning, armed with our hog roast machine, a gazebo and serving table, ready to roast the hog for a few hours before serving at lunch time. By the time it was roasted to perfection, the guests had started to arrive, and we began preparing the salads fresh, slicing the bread rolls and getting out all the sauces and stuffing. One of the gluten-free guests came up to us to thank us so much for the gluten-free option, as she was really touched to find out she could eat the same as everyone else. It's the little touches like this that really make each party we do so fantastic. Jane could not thank us enough for providing such a lovely hog roast in Winsford for her birthday.