We catered for a 60th birthday party today in Worcester Park, London. It was a fantastic family and friends event with 80 guests in total to feed. We were serving up our menu 3 option with 12 hour slow roast hog being the main character. Alongside the hog roast in Worcester Park, we served our fantastic array of bread rolls and wraps, rich sage and onion stuffing made using the hog juice, garlic and thyme roasted baby new potatoes and a variety of tomato, mozzarella and basil, fresh green leaf salad and homemade coleslaw. For the vegetarian guests, a homemade vegetable tart was served and we finished everything off with a selection of sauces including our homemade apple.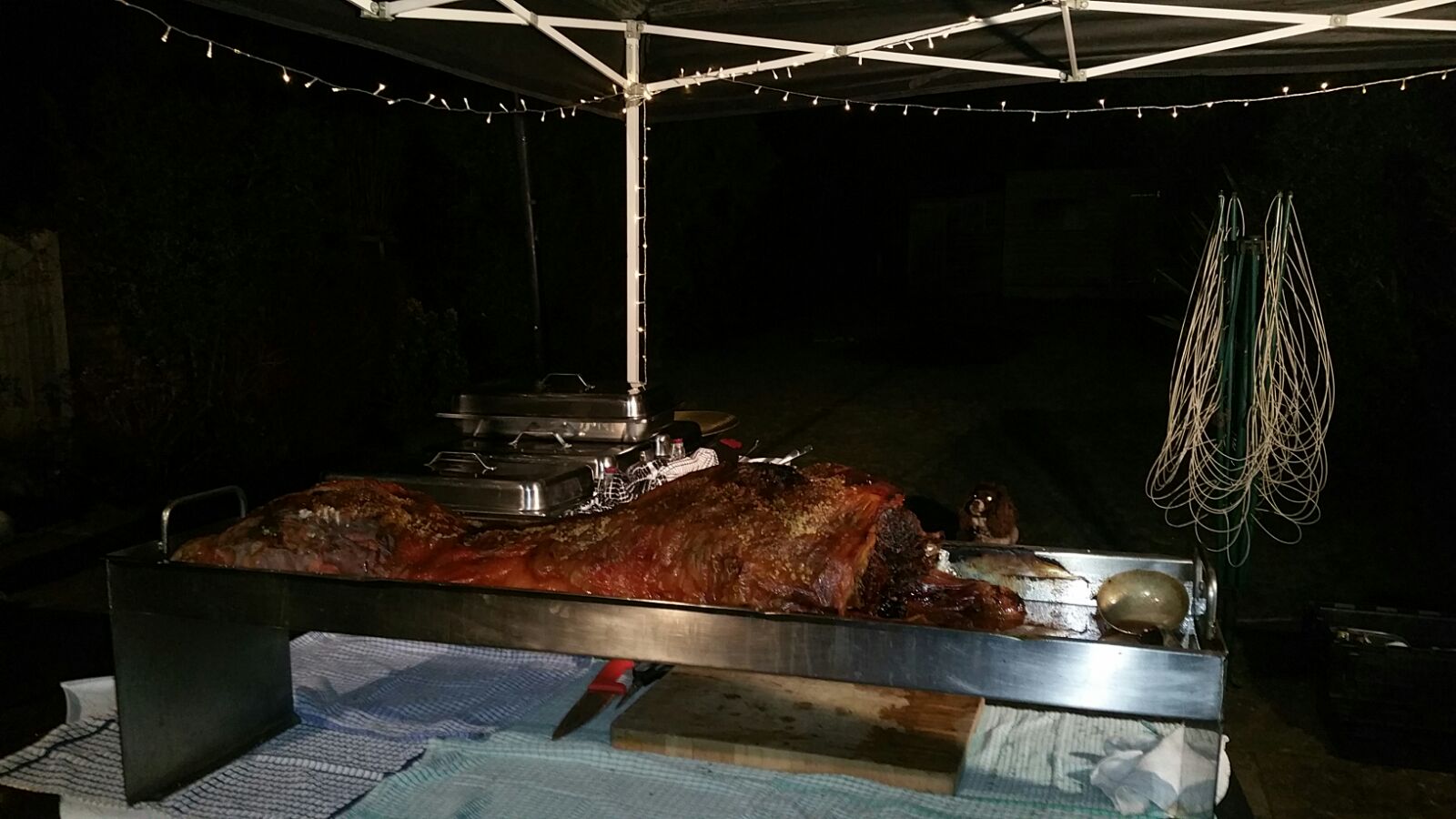 Luckily the weather was on our side as we arrived on site 3 hours before our serve time of 8pm. As we were serving the slow roast pork, we had cooked the hog at our base and transported it onto site giving it plenty of resting time before being pulled. We set up our black 3x3m gazebo and laid out some serving tables with fresh black table cloths. Before long, we had everything set up and were in our chefs whites preparing the delicious meal the 80 guests watching us were soon to eat. The hog roast Worcester Park certainly got a great deal of attention with almost everyone coming and having a look, some even taking pictures before we stripped it down in front of everyone ready to serve. The crackling was crispy and the salads looked stunning laid out as one meal. As we started serving, the guests couldn't wait to get a plate and get stuck in with many commenting on just how good it smelt before they had even seen what they were about to enjoy. The compliments came flooding straight back in with most saying it was the best hog roast they had ever tasted. The vegetarians were equally as pleased with all four taking time out to come and say thanks for such a wonderful vegetable tart. The food went down really well and many people came back for more. We left the party with enough left over food to keep them going the next day which nobody was expecting.
Our menu 3 is a sure winner when it comes to birthdays and this party certainly enjoyed the great service and quality food we served up for them. Another great hog roast in Worcester Park from Spitting Pig Surrey.