January is always a bit of a bleak month. Christmas is still being paid for and usually there is not much to celebrate. We fortunately had a local school that was up for a party. The sixth form students had been given the chance to have some fireworks, disco and a hog roast in Bloxham.
A couple of days before, I did a quick courtesy call to check out the layout. Common sense told me that it is sensible to make sure that I was complying with all the school's safety regulations. I had to sign in and make sure that I was escorted for every moment. The set up was simple and for this occasion it was decided to cook off site and arrive late afternoon and keep the pig at the correct temperature. The event was for about 140 students and so it would be a decent size pig. There was only a slight worry with the weather. There was a chance of snow which might have caused a problem.
I started cooking just after breakfast and monitored. There was even time to make a fresh Minestrone soup. It was certainly a healthy option with probably about double the 'five a day'. Liberally topped with freshly grated Parmesan cheese. At about 4.00 it was time to load up which is a little tricky with the pig so hot, 55kg of meat !!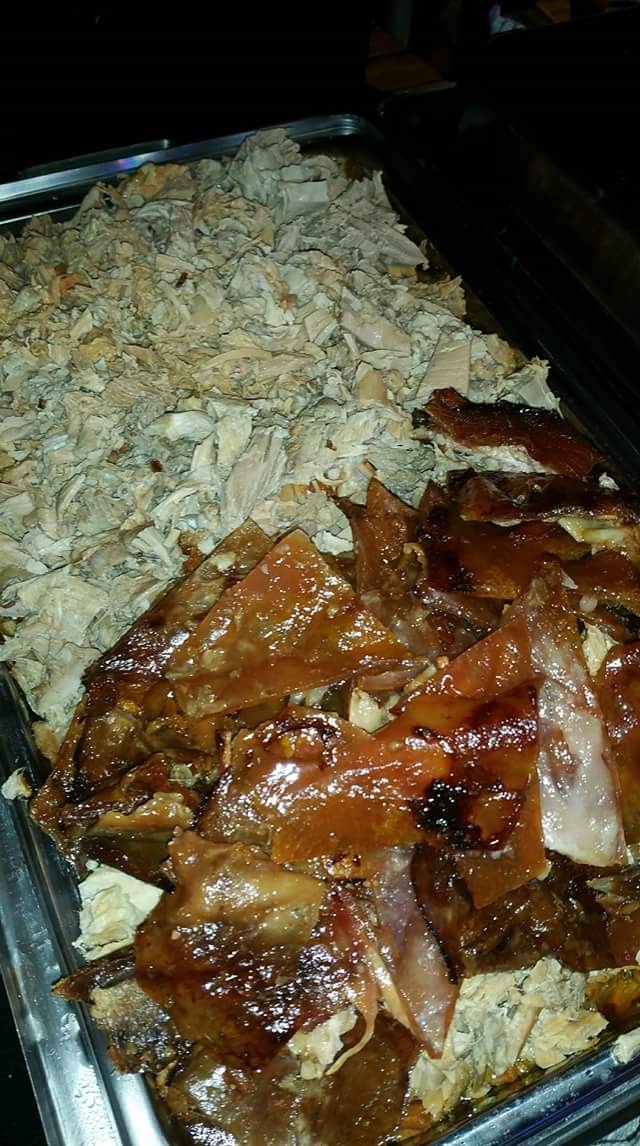 Fortunately the weather was fine and it would be a simple 15 minute hop over to Bloxham school. The set up was as expected with plenty of questions from pupils, who clearly weren't attending and ever hopeful that they could get an off cut. No chance! The plan was to wait for the fireworks to start which was scheduled for 6.45. The hog roast Bloxham could be served at the same time. As it turned out the pupils were well into the fireworks, which were a magnificent display. This meant that there was queue as soon the fireworks finished. It took about 10 to 15 minutes to get through everyone with the service taking place in the pavilion in case it rained. After about an hour everyone was done – plenty of seconds, and it was soon time to wrap up and head home.