The St. Mary Village Hall was the setting for the wedding reception of Sam & Julia. The Village Hall is situated in Overton, so the Spitting Pig Team had a short journey that morning.
The village hall easily accomodated the 60 guests, tables had been set up inside, neatly decorated with an abundance of flowers and candles. The garden of the village hall was stunning, a mixture of mature trees, shrubs and annual flowers, quite unusual for a village hall.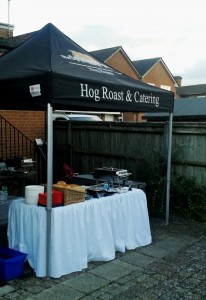 The Spitting Pig Team set up their gazebo on patio next to the hall. The hog roast had been cooking for 12 hours, the crackling was perfectly crispy, the stuffing prepared and the apple sauce ready. The serve was 8pm but the guests didn't start coming out until after 9pm, partly due to the excellent music the DJ was playing. Once a few people went inside with delicious pork rolls, the rest soon followed and it didn't take long before the majority of the pork was gone. People then started coming up for 2nd & 3rd as the night drew on and the Spitting Pig Team needed to turn on the battery gazebo lighting. By 11.30pm it was time to pack up and leave the celebration of Sam & Julia's marriage to continue late into the night.