Today Spitting Pig are providing hog roast catering for Domonic's wedding at Tewin Bury Farm which is set in beautiful country side in Welwyn.
The hotel and barns are the perfect venue for a wedding, corporate entertaining or parties for any occasions. With various barns that can hold up to 600 or so people, so whether your event is quite intimate with close family and friends, throwing your annual works party or you are "Mr and Mrs popular" with more friends than ever imagined, Tewin Bury Farm is the perfect place to hold your event and have Spitting Pig provide your hog roast catering in Tewin.
As well as the lovely hotel, the venue h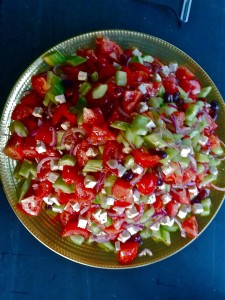 as a delightful restaurant serving tasty snacks and delicious meals all day. The river Mimram runs through the grounds and alongside the Tythe Barn… Simply an Idyllic location set in rural Hertfordshire yet only a short distance from all major towns in the area
It's a bit of a big do this one, with 300 guests for the daytime and up to 600 for the evening…. Domonic is a pastor at his local church and as well as family and close friends, the congregation was invited as well. The day was a colourful event with guests from many cultures and origins and many in traditional costume. This all added to the great atmosphere of the day.
One of the great reasons for having your event at Tewin Bury Farm is that you can dry hire the venue if you like, meaning you are free to choose your own catering. Domonic  has asked some close friends to provide canapés and a starter and Spitting Pig are providing the hog roast in Tewin and lamb roast in Tewin , four salads and two potato choices for the day time meal and the guests are all bringing some kind of dessert that will be shared during the evening. The hotel are providing the waiting staff (but again if you like you can arrange this yourself) so its mixing and matching as you like which will suit some people.
We arrived nice and early, set up our kitchen and started cooking the hog roast and preparing the salads. Although the plan was to serve the guests from three different serving stations outside, because the weather was a bit inclement it was decided that we would cook and carve out side and serve inside the barn. It made things a little more cramped for serving but it was better to be safe than sorry should the heavens have opened.
The hog roast in Welwyn was simply awesome…. Juicy, succulent sweet pork that just melted in your mouth and t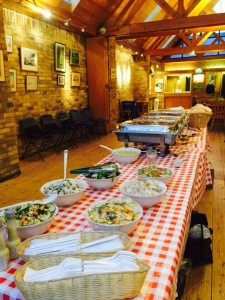 he crispy golden crackling was as good as it always is when cooked on our Titan hog roast machines. The spit roast lamb catering was cooked to perfection as well…. Slightly pink, tender and oozing with flavour from the seasoning of rosemary and garlic. We served a variety of vegetarian options for those non meat eaters and offered a range of delicious salads, hot new potatoes with fresh mint and herb butter and roasted new potatoes which were roasted inside the lamb roast machine and basted with the juices of the free range lamb and infused with rosemary and garlic.
300 people is quite a lot to serve and we had originally planned to serve outside and have three serving stations…. Two for the hog roast and one for lamb. The plan was to invite three tables of ten up at a time to have as quick a serve time as possible. But with serving inside we could not work to this plan and had to have just the two queues… one for lamb and one for pork. We still managed to serve all the guests in about 40 minutes. Many guests came back for seconds and some even for thirds.
While the desserts were served and the speeches and toasts took place, Spitting Pig quietly cleaned up our equipment, loaded the vans and left the party goers to enjoy the music and dance. After wishing Domonic and Catherine our best wishes for the future we headed home to prepare for more hog roast catering by Hog Roast Welwyn .