During the gloriously radiant days and sultry evenings of the British summer, we know that many a local fete or community event have underpinned their festivities with a fantastic full hog roast Little Chalfont catering experience from Spitting Pig. Even though summer now seems long gone, we recently were requested to provide our professional catering services at one such event in a lovely chocolate box location in Little Chalfont.
W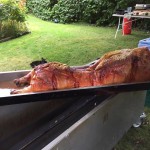 e were told by our client that we had come suitably recommended by others in the area and that we had received enthusiastic praise for our services and in particular the quality of our well known and much-loved hog roast Little Chalfont. At Spitting Pig we are always keen to assure our client that we only use locally sourced meats with suppliers who are tasked to the highest standards. This gives you the piece of mind that the quality and standards of the produce will only be of the highest calibre.
On this particular autumnal fete, the local community had put together a traditional local street festival with themed floats that varied from something of a medieval Tudor theme, all the way through to characters from Star Wars! We found the procession through the streets of this lovely village to be filled with generosity, warmth and an infectious community spirit.
After enjoying a colourful and vivacious procession, the joyous people congregated in the local playing field where we had our succulent and aromatic hog roast Little Chalfont now ready to be enjoyed after being slow cooked all day, infusing the air and the streets with a mouth-watering promise of satiety. It was quite an amusing and unusual site to see King Henry VIII stood beside Yoda as they both tucked into a traditional roast hog sandwich!
A full hog roast provides not merely a delicious and mouth-watering cure for hungry tums, but moreover a very memorable and dynamic catering experience for all kinds of events and gatherings. With our fresh and delicate summer salads and our delicious menus, it is no wonder that Spitting Pig are known locally and by recommendation, as the leaders in full hog roast catering experiences.
If you are organising a summer fete, an autumn get together, or a winter celebration, then Spitting Pig can provide the catering that creates a vibe and a voice that will be remembered long after the event.