We had a lovely time helping to celebrate John's 65th birthday in Dorridge over the sunny weekend. His wife Sandra booked us to cater for the affair as a surprise, knowing that a hog roast was his ultimate favourite food so it was absolutely ideal for this special occasion. Having enjoyed our delicious hog roast at their daughter's wedding a couple of years ago, John had not stopped talking about the tastes and smells from that day, so Sandra knew for sure that he would dearly love the surprise.
As it was a secret from John, Sandra called us a couple of times to organise the menu. One of those times, as Sandra spoke in hushed tones, John saw her and had asked her what she was up to but luckily he never actually guessed in the end.
In addition to the hog roast rolls, Sandra asked us to prepare John's favourite salad dishes, too. Even though we have menus for different kinds of parties and events on our websites, we are always happy to help you plan a different menu or you can create your own and we will do our best to provide you with the food that you request. You can use our menus as a starting point if you prefer and add onto it.
On Saturday, our team arrived at the house nice and early in the morning to get set up. With it being a big surprise, Sandra had sneakily arranged that the couple would spend the previous night staying at a hotel as his birthday present, so while we had been let into the back garden by another family member, they would be enjoying a leisurely breakfast at the hotel and a steady drive back. We set up our serving station under the gazebo and prepared the hog, then roasted it for a good few hours. Guests started to arrive as we were freshly preparing the salads and dishing up the apple sauce and stuffing, and then finally, Sandra and John arrived and everyone cheered as the birthday boy got the best shock of his life.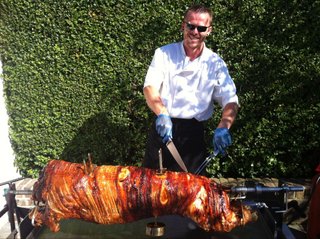 We carved the hot, juicy pork, and served John his lovely roll filled with meat and crackling and wished him a very happy birthday. He didn't stop smiling all day.