At the Spitting Pig we regularly hire out our machines to those who do not want the full catering service. Many people love to cook and want to do it themselves and many people simply just want to wow their guests with something new. Many of our corporate clients choose to hire our machines on a regular basis for special events. One of our clients has been hiring our machines for over 5 years now and absolutely loves a hog roast to leave a great impression! Scott owns a hotel in Leeds and when he has large bookings come in or special events he always like to offer a hog roast as a catering alternative, and it's always very popular!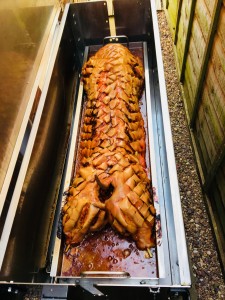 Most recently Scott had a large corporate booking that filled his hotel for a usually quiet Tuesday evening and he knew he had to impress! The managing director or the company had booked all of his employee's an evening meal in Scott's hotel! Scott knew he needed to call us for a machine! As we knew he wanted to impress we suggested trying the spit roast, (he had previously always slow roasted the hog in a tray). When we delivered our Titan machine on the morning that his guests were arriving, our chef gave Scott some expert advice for spit roasting and cooking times for his pig. The pig arrived mounted onto its spit with a free gas can so Scott was ready to go! The pig we provided would feed all 50 guests.
We had arranged to collect the machine from Scott the next morning and eagerly awaited his feedback on the spit roast! He sneaked some for himself to try and he did tell us that it was delicious, if he may say so himself!
As Scott is a regular customer he has learnt lots from our chef's each time they deliver his machine, and with a few Spitting Pig tips each time he is soon to become a pro!