The Spitting Pig is not only a well-known catering company that covers events and parties all over the country, we are also known for selling and renting out our own top-class machines so that you can have a DIY hog or spit roast. Why not go the 'whole hog' yourself and rent one of our machines for your special occasion? Many of our customers hire them for birthday parties, wedding receptions and corporate hospitality, but whatever occasion you're having, you can enjoy this wonderful type of cooking in your own back garden or any venue that you can think of.
You might be surprised to find out that our machines are very versatile, as they are capable of cooking all kinds of meat – not just hog – as well as potatoes and vegetables. Additionally, the machines are ultra-portable, which means you're not restricted to cooking in one place if you hire (or even buy) one. Fancy a barbecue in the park or a hog roast picnic on the beach? You can with one of our machines, as they have pneumatic tyres and a state-of-the-art steering system, meaning you can take them just about anywhere.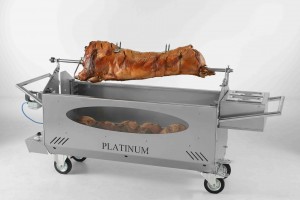 Adam, the owner of a local catering company, called us recently as he wanted to hire one of our machines to cater a wedding reception in the countryside. He was concerned about needing to get the hog roast machine to the barn, which was across fields and with no roads or tracks in sight. We explained to Adam that our machines really are truly mobile, and can manage all kinds of terrain including country fields. This was exactly what he needed to hear, so Adam booked us in and I dropped off one of our machines yesterday at the venue itself. I showed Adam how to easily use the machine to cook his hog (we can provide the meat if needed, but Adam had his own pig for this event) and then he was off through the fields, ready to cater for his customers.
When I picked the machine up today, Adam was so happy with how the food had turned out that he was thinking of buying his own machine for his business.