At Hog Roast Frodham, we have so much repeat custom for our catering services, but we also do for our hog roast machine rentals and sales, too. While we are always busy renting out our range of hog roasting machines so our customers can DIY, we also sell them to both domestic and pro chefs and we even have customers on the other side of the world as we sell online!
However, there's nothing like the feeling of seeing our range of equipment in person, talking to our industry experts about the one suitable for your business or home needs and even watching one being built from scratch in our own factory. You don't even need an appointment to have a tour of our factory and showroom.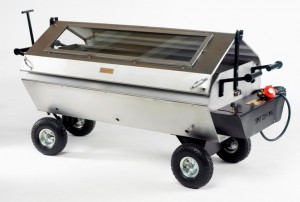 We believe that our Titan, our hero of a machine, is the best commercial hog roast machine on the market – and with good reason. It's our bestseller and the machine of choice time and time again for professional hog roast caterers. One of our long-standing Hog Roast Frodham customers Perry, the owner of a chain of pubs and a budding chef who loves to cook his own hog and spit roasts, is actually the proud owner of four Titans in total, including one at home and three for his businesses. Having recently acquired another pub, Perry was on-site to talk to us again about buying yet another one.
The Titan can be used as a hog roasting oven, a spit roasting oven and a combination oven, so it's incredibly versatile but not only that – it's just so easy to use. Simply load your pig into the machine, score it all over and smother with water and salt, then turn it on and leave it to sizzle away for hours while you keep watch. Hog Roast Frodham will happily demonstrate its ease of use but we also provide you with a detailed manual to refer back to as well.
As expected, on this day Perry ordered Titan number five but not before watching his actual machine being built right in front of him.