In addition to all the hard work our catering teams put in serving up delicious slow roasted food day in and day out, up and down the country, did you know that Hog Roast Nottingham also do so much more?! The other side of our hog roasting business lies in creating the equipment that our chefs rely upon to do their day job- the Hog Roast Nottingham machines!
Situated in the heart of Lancashire, is our machines factory and showroom. From here we have a team of design engineers who build each and every one our machines to our exact specifications. This makes us leading experts in the world of hog roast catering as there is nothing we don't know about what goes into the perfect roast!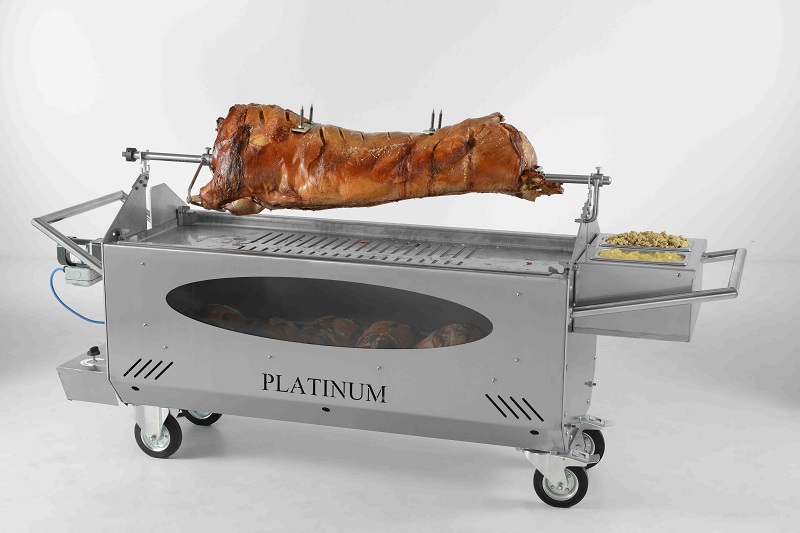 As part of this service we also make our machines available to hire and buy to members of the public and fellow caterers. We know that purchasing a Hog Roast Nottingham machine can be a big investment and so whenever we get an enquiry from someone interested in buying one of our machines we always like to invite them to visit our factory where they can really get a feel for each of the machines and so we can help them find the perfect machine for their needs.
Charlie visited our factory a couple of weeks ago to try out our machines before he went ahead and purchased the Platinum machine! As a caterer himself, Charlie had been looking for a machine large enough to cater for any number of people whilst also being easy to use and manoeuvrable by one person if needed. After seeing that the Platinum fit all of his specifications, Charlie was happy to arrange a delivery date and buy the machine!
It's now been a few weeks since we delivered the Platinum but we still like to check in with Charlie every so often just to make sure he is getting on well and to answer any queries he may have. We are pleased to report that so far Charlie is loving his hog roasting machine and has even offered to cook our factory team up a Hog Roast Nottingham feast to thank them for their help- what a lovely gesture!