We were recently contacted by Andrew, the Restaurant Manager of a rather grand hotel in the heart of the countryside who was looking for an impressive yet cost-effective way of cooking meat. His hotel restaurant prides itself on providing the finest example of British cuisine using the best local ingredients, and although he already had a great local pork supplier, he felt cooking it in a traditional oven wasn't doing it justice. He also wanted a way of sharing the cooking process with his diners during special events, particularly in summer when everyone wanted to eat in the hotel's attractive outdoor space.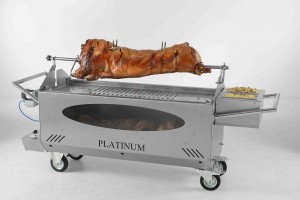 Andrew told us the more he searched, the further away he seemed to get from finding what he wanted, until he had reached the point where he was sure this elusive piece of cooking equipment didn't even exist! Luckily for Andrew, he made one more inquiry before giving up and that was to us! After listening to his requirements, we immediately knew one of our hog roast machines from our popular Platinum range would be perfect for him! Offering both volume and versatility, it can cook 2 pigs at once for a large event, or be used as a traditional barbeque on the top whilst the pig is roasting slowly underneath!
Andrew couldn't believe what he was hearing and after our prompt delivery of the Platinum, he couldn't believe his eyes either when he saw it in action! Not only had he finally found a cooking technique to do his locally-reared pork justice, the Platinum had worked the same magic on all of his other joints of meat as well! Andrew and his team love the flexibility their new Platinum offers and since the hotel purchased it, they have had several successful outdoor events and have even managed to cook all of the potatoes and vegetables in the machine as well as the meat, meaning they didn't need to keep dashing back and forth to the kitchen all the time!
The Platinum has also become the showpiece Andrew was hoping for and his delighted diners love being able to watch the meat cooking through the heatproof glass panel at the front! Andrew feels that his hotel restaurant has had a whole new lease of life since the Platinum arrived on the scene and now he doesn't know how he ever coped without it!