After weddings were cancelled or postponed for so long because of the pandemic, wedding caterers are super busy making up for lost time now that they can finally get on with catering for all those celebrations that were put on hold! With it being such a busy time for wedding caterers, it is hardly surprising that many are looking to invest in new equipment that will enable them to provide as much freshly made food as possible without cutting corners on quality.
Hog roasts are an incredibly popular option for weddings these days, and if you have the best equipment at your disposal, combined with your own passion for providing the best food and service that you can for this special occasion, you can't go wrong!
This is the path that Wendy and Chris went down when they decided to invest in one of our eye-catching Platinum hog roast machines for their own mobile wedding catering business and judging by the feedback that we have received from them, they are clearly very glad they took the plunge!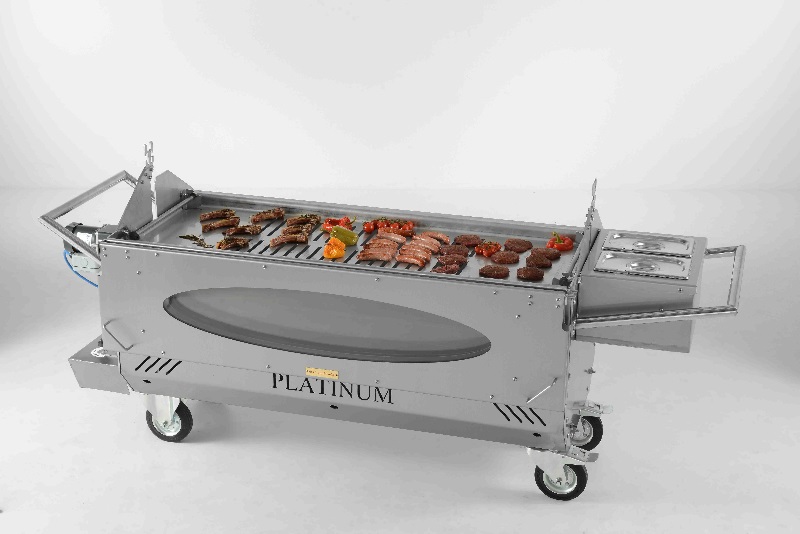 Wendy and Chris had been seeking a new piece of equipment for a while that offered them the volume and versatility that they required, and they found all of this and more in the multi-functional Platinum model. Offering both the quantity and variety of food that they want for their wedding menus, the catering couple have found that they have been able to expand their repertoire and cater in a wider range of outdoor venues without having to worry about the logistics at all.
As soon as they contacted us to make their initial enquiry, the knowledgeable team here at Hog Roast Bungey knew that the Platinum would be the perfect model for their needs, and after hiring it to give it a test run, they immediately felt that it was the piece of equipment that they had been looking for. Wendy and Chris are now thrilled to be able to offer hog roast menus for their clients, and so are the happy couples who hire them to cater for their special day!