The Titan is the most commercial and versatile hog roast machine on the market in the UK. It is one of Hog Roast Richmond's best seller chosen by professional and beginner hog entrepreneurs. It is completely simple to use, guaranteeing a perfectly cooked pig with crunchy crackling every time. For the best hog roast, simply pop the pig in the tray, score the skin to help the crackling crisp up, pour water over it and then salt and rub it in and then turn it on and leave it cook nice and slow on low.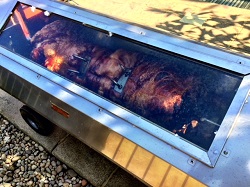 Not only does the Titan deliver an amazing hog roast, it is also the best machine for spit roasting. It comes with the pole, the pole's equipment to stabilise the pig, the motor and carving tray. Once the pig is on the pole (please see online video's on how to do this or watch the detailed DVD that comes with the machine), it then gets dropped into the machine, align the 'stars', turn on the burners and the motor for it to start cooking. The pig doesn't take as long to cook spitting. When the pig is ready, the pole then gets lifted up onto the grips either side, providing a satisfying theatre aspect and a carving tray then gets slid underneath. It will result in the best crispy cracking and perfect carving meat. A handy tip, put tinfoil against the sides and bottom of the machine to catch the juice, the juice will eventually harden and then you just scrunch up the tinfoil and put it in the bin, leaving a clean machine sides and bottom.
The Titan has been carefully hand crafted from tough, durable stainless steel. One of the doors has a heat proof glass window, giving a visual element while the pig cooks. The undercarriage has four chunky, durable tyres with a great steering system making it easy to pull along by yourself. It has the capability of cooking a pig up to 80kg which would easily feed up to 300 people. A great addition to our fleet of machines at Hog Roast Richmond.
The machine itself can work as a hog roasting oven, spit roasting oven and a combination oven. Simply attach the gas bottle and 'click' the machine to ignite. It is very self-sufficient, with the need for electricity for the motor when using the machine as a spit roast or rotisserie.
The Titan is definitely a top of the range machine, very popular with customers and comes with a year's guarantee, why not purchase one from Hog Roast Richmond now?