At Hog Roast Bootle, we just love to keep ourselves busy. For this reason, on top of being an industry-leading catering service, we also offer our clients the chance to rent or buy one of our pieces of equipment – all training is, of course, provided by our lovely team of staff. And more recently, we've branched out even further by adding food deliveries to our expansive list of options. So, whatever your catering needs are, you can rest assured that you're in the right place!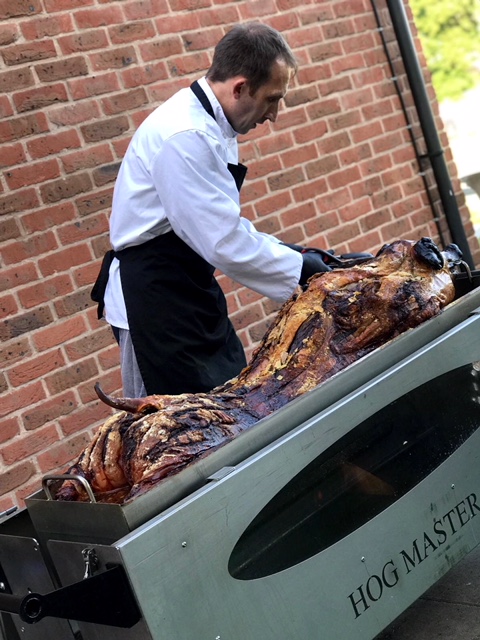 Getting more people involved in hog roasting has been a passion of ours since the company launched almost 30 years ago, so we've been delighted with the growing number of hires and purchases we've had in these last few months. The latest purchase enquiry we had came from Harry, who placed an order for one of our machines just last week.
Like many farmers, Harry had been struggling to keep his business afloat amidst the on-going pandemic. But after deciding that he would need to adapt his methods, he reached out to Hog Roast Bootle to discuss his new business plan; a hog roast drive-thru. We were on board straight away!
Over the years, we've helped a huge number of entrepreneurs kickstart their businesses, so Harry was in good hands from the very beginning. As a knowledgable spit roast enthusiast, our catering manager was able to arm the client with loads of helpful advice about our full range of machinery which is geared towards novices and master chef's alike.
In the end, Harry decided on our Titan machine, which is as impressive as the name suggests. A sleek, lightweight design that is versatile enough to be used for a comprehensive range of meats and side options, and produces mind-blowing results. Every. Single. Time.
After placing the order, the machine made the journey to its new home the following day, and Harry was over the moon with how quick and smooth the entire process had been. Since receiving his new device, the client has been in touch with Hog Roast Bootle to let us know that his first drive-thru experience was a huge hit!