Witches and warlocks, boys and ghouls, it's time to dig out your creepiest costumes and fill those cupboards up with sweet treats because Halloween is just around the corner – eek! While cramped haunted houses, trick or treating and wild raves are definitely not on the cards for this year's celebrations, the Hog Roast Burrow Bridge team want to remind you that all is not lost.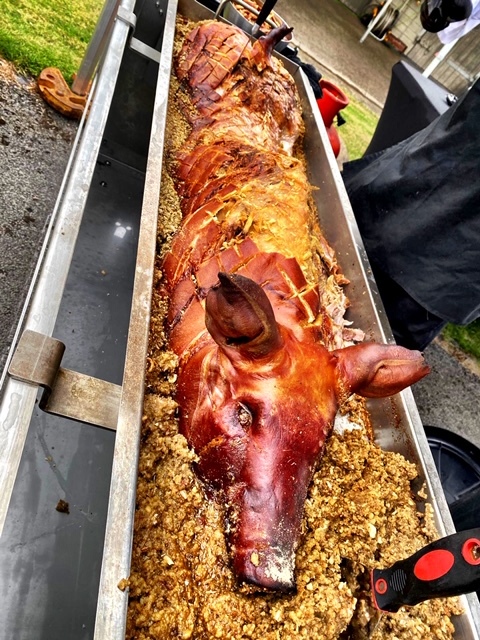 There are still plenty of ways you can have fun this spooky season, whether that be a night in front of the TV binge-watching your fave horror classics or tucking into a divine dinner with the rest of your household. Or, hear us out…why, not both? Just because there are fewer places to go outside, doesn't mean you can't have fun inside.
So, if an intimate at-home Halloween party sounds like the perfect way to mark the occasion, then you couldn't have come to a better place. Here at Hog Roast Burrow Bridge, we offer our clients the choice between a vast selection of menu options which are sure to put your guests under an enchanting spell. What's more, our crew can either provide on-site catering, a delivery service where freshly-cooked food is brought straight to your doorstep, or we can even teach you our ways and leave you to handle the HogMaster yourself. The choice is yours. But whatever you decide, we guarantee you'll be the (g)host with the most this Halloween!
With time quickly running out before the occasion, and still no clue on how to celebrate, Janet was starting to feel stressed. That at least, was until she found Hog Roast Burrow Bridge on social media. After a quick discussion with our catering manager, Janet's fear's quickly melted away, and instead, she was filled with excitement for her upcoming event.
Like many of our customers and clients these days, Janet has opted for our Gourmet Delivery service which will include a packaged version of our southern slow roast menu. Not only is this a lockdown-safe method of catering, but it will also allow Janet to completely enjoy her evening without having to worry about timers going off in the background.
We hope you'll join us in wishing Janet and her family a spooktacular Halloween!